Chicago River bridges scheduled for trial closures through April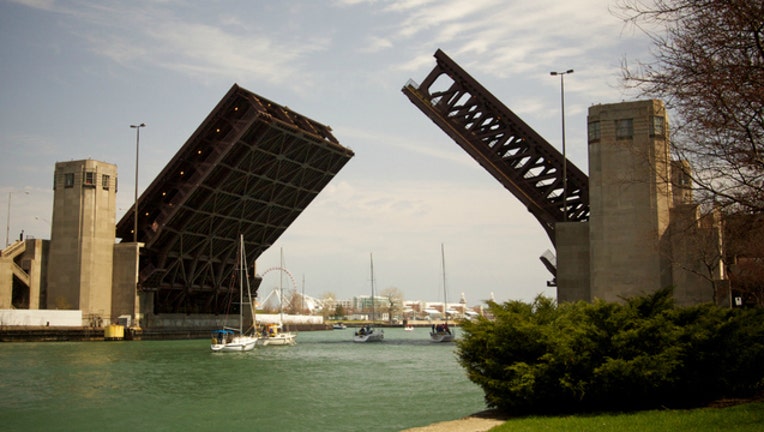 article
SUN-TIMES MEDIA WIRE - Beginning Monday, the bridges over the Chicago River will be raised and lowered to make sure they are in working order.
The bridge trials were scheduled for Monday until April 4 and will help the Chicago Department of Transportation prepare for bridge lifts from mid-April through June on Wednesdays and weekends, according to CDOT.
Week day closures were scheduled from 9:30 a.m. until 2:30 p.m. on:
Feb. 27 at South Ashland Avenue Bridge;
Feb. 28 at Loomis Street Bridge;
March 1 at South Halsted Street Bridge;
March 3 at South Canal Street Bridge;
March 7 at 18th Street Bridge;
March 8 at Wabash Avenue Bridge;
March 10 at Dearborn Street Bridge;
March 13 at Clark Street Bridge;
March 14 at Franklin Street Bridge;
March 15 at Harrison Street Bridge;
March 16 at Van Buren Street Bridge;
March 20 at Jackson Street Bridge;
March 21 at Monroe Street Bridge;
March 22 at Madison Street Bridge;
March 23 at Washington Street Bridge; and
March 24 at Randolph Street Bridge.
Week night closures were scheduled for:
10 p.m. until 2 a.m. on March 9 and 10 at Roosevelt Road Bridge;
10 p.m. until 5 a.m. on March 16 and 17 at Michigan Avenue Bridge and
8 p.m. until midnight on March 7 at State Street Bridge.
Weekend night closures were scheduled for:
10 p.m. until 5 a.m. on March 18 and 19 at Lake Shore Drive Bridge;
midnight until 5 a.m. on March 26 at Lake Street Bridge and
midnight until 5 a.m. on April 4 at Wells Street Bridge.
Additionally, the 100th Street bascule bridge across the Calumet River will be closed to repair one of the gears Monday from 7 a.m. until 3 p.m., according to CDOT. The bridge will be positioned to allow tug boat traffic to move through the area and vehicle traffic will be detoured.