Chicago woman gets 16 years for role in love triangle murder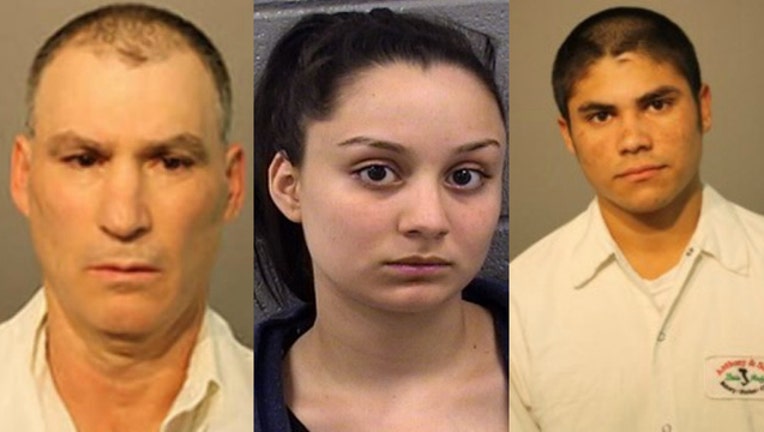 article
CHICAGO (Sun-Times Media Wire) - A woman who was charged, along with her boyfriend and father, in connection with the murder and dismemberment of a man at her Southwest Side home in 2013, was sentenced to 16 years in prison Thursday.
Daisy Gutierrez, 21, pleaded guilty to dismembering a body before Judge William Hooks, according to Cook County court records.
Prosecutors alleged a love triangle was at the center of the grisly murder at the home in the Ashburn neighborhood.
Gutierrez told her family to leave their home in the 8300 block of South Scottsdale Avenue on May 21, 2013, and lured her former boyfriend's brother, Jose Reyes, to her room, prosecutors said. She began to undress while her current boyfriend, 24-year-old Milton Miranda, lay in wait.
Reyes, 28, had expressed interest in Gutierrez, so as she began undressing, Miranda kicked in the door and attacked Reyes with a pipe and knife, prosecutors said. He slit Reyes' throat in front of Gutierrez and decapitated him.
Her father, 58-year-old Salvador Gutierrez, came home and watched as Daisy Gutierrez and Martin Miranda dismembered Reyes and buried him in plastic bags in their backyard, authorities said.
Reyes' remains were found Oct. 4, 2013, and an autopsy determined his death was caused by multiple sharp force injuries and assault, authorities said.
Daisy Gutierrez and her father were arrested in Chicago. Miranda was arrested in Morristown, New Jersey, and extradited to Chicago.
Judge Hooks sentenced Daisy Gutierrez to 16 years in prison Thursday, according to court records. She will receive credit for 936 days served in the Cook County Jail.
Salvador Gutierrez, who was also charged with concealing a homicide, was also scheduled to appear in court Thursday. Details about his hearing weren't immediately available.
Miranda, who is charged with first-degree murder, is next scheduled to appear in court May 12.