Clinton visits 'wall of death' in Chicago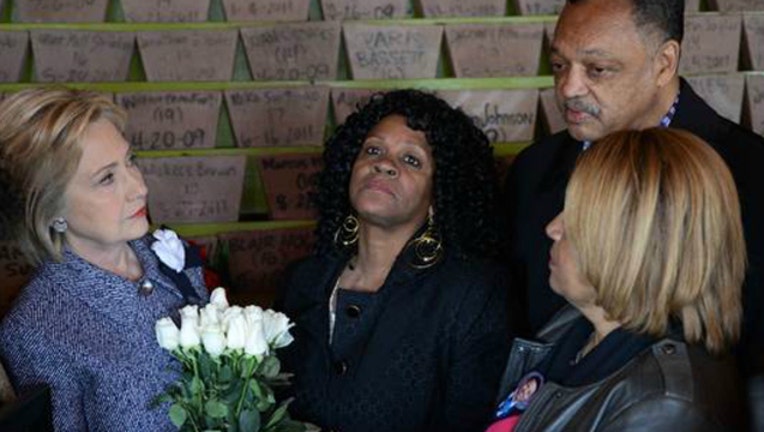 article
CHICAGO - Determined to make the plague of gun violence and poverty in urban America a top priority in the 2016 Presidential campaign, Rev. Jesse Jackson on Monday took Democratic frontrunner, Hillary Clinton, to "a wall of death" – a memorial to murdered children fashioned out of paving stones and sorrow on Chicago's far South Side.
Joined by nearly a dozen mothers who have lost children to gun violence, Rev. Jackson, founder and president of the Rainbow PUSH Coalition, said he asked Mrs. Clinton to visit the memorial at 117th Street and South Michigan Avenue because "we thought it would be fitting for [her] to put real focus on the zone of crisis in Chicago."
"I've chosen not to endorse anyone [in the Presidential primaries] but to endorse a proposition," Rev. Jackson said. "That proposition is that we must have a summit to end violence and for reconstruction."
The memorial – 501 paving stones, each with the name of a murdered child printed in black – was built by a neighborhood peace and child advocate, Diane Latiker, and her family nine years ago. Since then, the memorial has been rebuild a dozen times.
"We're 531 stones behind," Ms. Latiker said, as Mrs. Clinton, the former Secretary of State, stood at her side, clutching a dozen white roses in tribute to the murdered children and their parents.
"If you take nothing else from being here," Ms. Latiker said, looking directly at Mrs. Clinton, "this is not America. And nobody wants to talk about it because it's sticky. But blood is sticky." 
Visibly moved by the memorial, Mrs. Clinton said, "We have to do many things. But the first and most important of any nation is to protect and keep safe our children" yet despite the heroic efforts of the mothers gathered around her "we allow this epidemic of gun violence to stalk our streets, our playgrounds, our buses, our churches."
"It is profoundly wrong," Mrs. Clinton said "to see how many children's lives are ended by senseless, brutal gun violence."
She said she had spent much of her professional life speaking out and standing up to the gun lobby and vowed, if elected president, to increase her efforts. She added that "Rev. Jackson is also right: we need things to say yes to."
"We need opportunities," she said. "We need more jobs. We need good teachers and schools for every child regardless of what zip code that child lives in."
Her voice catching, Mrs. Clinton looked from mother to mother, the sisters of sorrow. "I pledge to you in front of this heartbreaking memorial that as a mother and a grandmother and as a president, if I'm so fortunate to be president, I will work every day to save and protect the lives of our children. I will work every day to provide more opportunities and tear down the barriers that stand in the way of people having the chance to fulfill their potential."
Rev. Jackson ended the solemn visit with a plea and a prayer. He asked for a massive voter turnout in Tuesday's primary elections in Illinois, Ohio, Florida, North Carolina and Missouri "to show our will to fight back."
Then he prayed that the mothers and the rest of the country "turn this massive mourning into a movement for peace and justice."
Amen, the mothers said, as they held tightly to photos of their murdered children.