Company to resume work to finish Dakota Access pipeline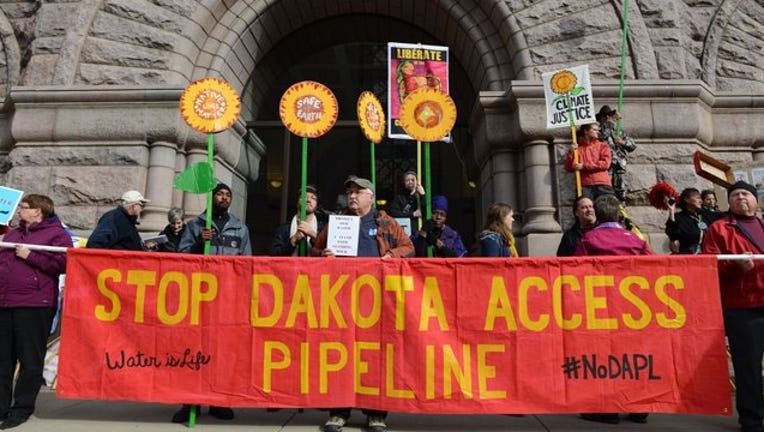 article
CANNON BALL, N.D. (AP) - With the green light from the federal government, the company building the Dakota Access oil pipeline said Wednesday it plans to resume work immediately to finish the long-stalled project. Opponents of the $3.8 billion project meanwhile protested around the country in an action some dubbed their "last stand."
The Army on Wednesday granted the developer of the four-state oil pipeline formal permission to lay pipe under a Missouri River reservoir in North Dakota, clearing the way for completion of the disputed project.
"We plan to begin immediately," Vicki Granado, a spokeswoman for developer Energy Transfer Partners, said in an email to The Associated Press Wednesday night.
Work had been stalled for months due to opposition by the Standing Rock Sioux, but President Donald Trump last month instructed the Army Corps of Engineers to advance pipeline construction.
The tribe fears a pipeline leak could contaminate its drinking water. ETP says the pipeline is safe.
"Now, we all need to work together to make sure the project is completed safely and with as little disruption to the community as possible. This has been a very difficult issue for everyone who lives and works in the area," U.S. Sen. John Hoeven, a North Dakota Republican, said in a statement announcing that the final easement had been granted.
Some members of the Standing Rock Sioux tribe, which has been at the center of the debate for nearly a year, urged "emergency actions" via social media. The Indigenous Environmental Network told people to target fuel-transportation hubs and government buildings and to expect violence and mass arrests.
Protesters posted an online list of about 50 events nationwide. There were large rallies, including one outside the White House, and smaller ones, such as in Des Moines, Iowa.
A group of protesters in Chicago targeted a bank, and another group went to an Army Corps of Engineers office in New York City but was asked to leave when they started filming without a permit. Several people were arrested for blocking public access to a federal building in San Francisco.
"Today begins the next phase of mass resistance to Donald Trump's toxic Dakota Access pipeline," said Dallas Goldtooth, executive director of the Indigenous Environmental Network. "This is our land, our water, our health, and our culture at stake - and if Donald Trump thinks we will give all of that up without a fight he is wrong."
At a North Dakota encampment that's been the focus of the pipeline battle for months, the mood was tense, with a few dozen people milling about on a frigid morning and refusing to talk about their plans. Two men at the encampment ordered an Associated Press reporter to leave.
Later, Joye Braun and Payu Harris, two pipeline opponents who have been at the camp since April, said in an interview at a nearby casino on the Standing Rock Sioux reservation that there's frustration but also resolve in the wake of the Army's decision.
"The goal is still prayerful, nonviolent direct action," Braun said.
The tribe maintains the decision violates its treaty rights, and its attorneys have vowed to keep fighting in court.
The 1,200-mile pipeline would carry North Dakota oil through the Dakotas and Iowa to a shipping point in Illinois. Construction is nearly complete but has been stalled while the Corps and Dallas-based developer Energy Transfer Partners battled in court over the final segment.
The Standing Rock Sioux, whose reservation is just downstream from the crossing, fears a pipeline leak would pollute its drinking water. The tribe led protests last year that drew thousands of people who dubbed themselves "water protectors" to the encampment near the crossing. Protesters and police sometimes clashed, leading to nearly 700 arrests.
The camp's population has recently thinned to fewer than 300, and the Corps has notified remaining protesters that the government-owned land will be closed Feb. 22.
On Wednesday, police or pipeline security continued to monitor the camp from nearby hills, as they have done for months. In the camp, few people were outdoors, where the wind chill sank to minus 20 degrees. The tribe itself has told camp occupants to leave, though there has been no effort to remove them.
A new camp is being established on private land, according to Harris.
"This is not over. We are here to stay. And there's more of us coming," he said.
Chase Iron Eyes, an American Indian activist who has called on people to return to the main camp rather than leave, encouraged that again in a statement and on social media.
"I'll see you on the front line," said Iron Eyes, who is facing a felony charge for allegedly inciting a riot during protest action last week near the camp.
An assessment conducted last year determined the river crossing would not have a significant effect on the environment. However, the Army in December decided further study was warranted to address tribal concerns.
The Corps launched a study on Jan. 18, but Trump signed an executive action six days later telling the Corps to proceed with construction.
Workers earlier drilled entry and exit holes for the crossing, and oil has been put in the pipeline leading up to the lake in anticipation of finishing the project. CEO Kelcy Warren has said the work could be done in about three months.
___
Blake Nicholson reported from Bismarck, North Dakota. Follow him on Twitter at: http://twitter.com/NicholsonBlake .