Couple passed out in vehicle while toddler wanders around parking lot naked, police say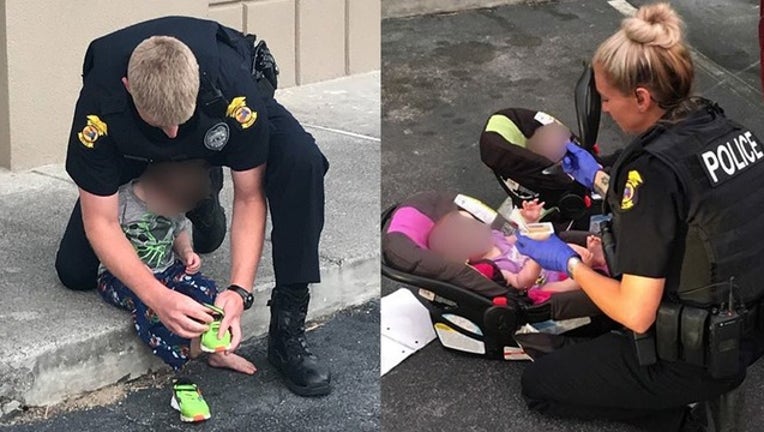 article
PANAMA CITY, Fla. (FOX 35 ORLANDO) - Police officers and IHOP employees in one Florida city worked together to care for three children whose parents were passed out in their vehicle. 
The City of Panama City posted on their Facebook page that around 5:30 a.m. on Wednesday morning, IHOP employees noticed a toddler with no clothes wandering around their parking lot. They also noticed a van in the parking lot with two adults passed out inside. The employees were reportedly unable to wake the adults up. They went on to wrap the toddler up in an apron. 
The adults, identified as 24-year-old Jordyn Freeman and 27-year-old Randy McMillin of Ohio, were both said to be under the influence of drugs. Officers could even see the drugs inside the van. They also found nine-month-old twins in the van. One of them was covered with blankets and pillows.
The Facebook post by the City of Panama City went on to state that the three children appeared to be in good health but needed clean clothes and diapers. Responding officers helped care for the children by changing their clothing while IHOP employees gave them pancakes. 
The Department of Children and Families (DCF) responded to the scene and reportedly took custody of the children. Both Freeman, the mother of the children, and McMillin, the mother's fiancé, were taken to the Bay County Jail. They are being charged with Child Neglect, Possession of Methamphetamine, and Possession of Drug Paraphernalia.
The City of Panama City wants to remind citizens that suspected child abuse or neglect should be reported to the Panama City Police Department at 850-872-3100 or the DCF Hotline at 1-800-96-ABUSE.
This story was written out of Orlando, Florida.
Read more FLORIDA news: