CPS officials release preliminary framework for fall semester, hybrid learning plan unveiled
CHICAGO - Most Chicago children would return to the classroom two days a week and spend the other three days learning remotely once the school year begins under a tentative plan outlined Friday by officials from the nation's third-largest school district.
Chicago Public Schools officials called the proposed hybrid approach a preliminary framework, though, and asked parents, students and staff to weigh in. A final decision about in-person instruction for fall classes won't come until late August, with classes set to begin Sept. 8.
"This preliminary framework represents the next step in our community-wide discussion on how we ensure our children stay safe, engaged, and resume learning when our school year begins in September," Lightfoot said.
PDF: A Day in the Life of a CPS Student Learning at School
Half of Kindergarten through 10th grade students will attend school in person on Mondays and Tuesdays, and the other half would attend on Thursdays and Fridays. Virtual lessons would be taught on Wednesdays while schools are disinfected between the two groups. Students would also be given assignments to complete on their own the other two days they're at home.
The preliminary plans would see students split into pods of 15 at school. Each pod would stay in an assigned classroom with assigned seating in desks at least six feet apart "where feasible," officials said. The pod structure would allow for easier isolation and contact tracing if a student contracts coronavirus, the district said.
Most high school juniors and seniors will continue to learn from home full-time, except for students who need additional academic, social, and emotional support, or students who are engaged in specialty programming that can't be accessed from home.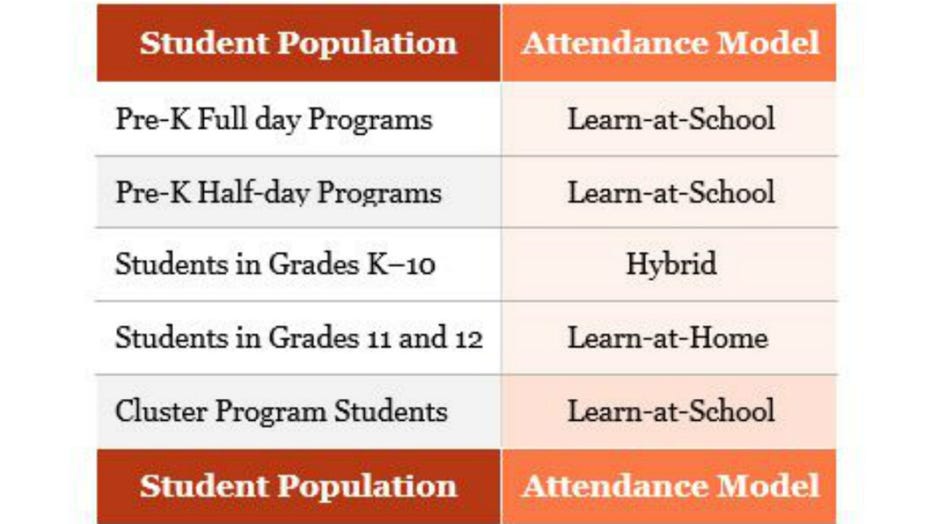 Also under the plan, students in special education cluster programs would be given in-person instruction every day.
Parents can also choose to opt their student out of in-person learning, whether that child has an underlying medical condition that elevates their risk to coronavirus or not, officials said. CPS staff members with medical or caretaking needs must request a leave of absence or accommodation request through updated procedures that will be announced in late July.
SURVEY: Give feedback on the preliminary CPS reopening framework here
The plan will now receive feedback from students, parents, and staff over the next two weeks, and a final decision will come in early August.
"Our dialogue will require that everyone's voices are heard in order to arrive at the strongest possible plan for our students and school communities," Lightfoot said. "COVID-19 has been unpredictable from the start, but whatever form this challenge takes, I want everyone to know that education and learning will be happening this fall."
PDF: A Day in the Life of a CPS Student Learning at Home
Significant Health Protocols
The school district said it will implement rigorous health protocols including the requirement of face masks, daily health screenings, and temperature checks. It's also hiring about 400 additional custodians to help clean and sanitize each school across the district.
Health Screening: All students and staff will receive daily temperature checks and complete an online symptom screener questionnaire each day.
Face Coverings: In accordance with ISBE guidance, all people (over the age of 2) in every school building will be required to wear face coverings, except for individuals with a verified medical exemption. 
Hand Hygiene: Students and staff will be required to sanitize their hands upon entering the building or after traveling inside the building, and wash their hands after using the bathroom.
Cleaning and Disinfecting Protocols
Staffing: The district is hiring approximately 400 Board-employed custodians to support stringent cleaning and disinfecting protocols, and ensure soap and hand hygiene stations are consistently stocked.
Daily Focus on High Traffic Spaces: High traffic spaces such as bathrooms will be fully cleaned and disinfected multiple times a day. High touch point areas will also be sanitized multiple times a day, including but not limited to door handles, light switches, elevator buttons, banisters, pencil sharpeners, dispensers and railings
Enhanced Routine Cleaning and Disinfection Program: Stringent cleaning and disinfection protocols, based on CDC and EPA guidance, will be in place and will occur between cohorts.
Health and Sanitation Resources
Face Masks: The district has purchased more than 1.2 million reusable cloth face masks to support every student and staff member.
Disinfectant Wipes for Every Classroom: The district has purchased more than 40,000 containers of disinfectant wipes for use in classrooms. 
Hand Sanitizer Dispensers: Every high traffic area and every classroom will have large hand sanitizer dispensers for a total of 42,000 dispensers. 
Thermometers: Schools will be equipped with more than 22,000 touchless infrared thermometers for health screening.
Hospital-Grade Disinfectant Sprayers: Every CPS school will receive a hospital-grade mister spray unit that will evenly apply EPA-approved disinfectant for maximum disinfection.
In the event a member of the student or staff tests positive for COVID-19, officials say a "stringent disinfecting of impated areas" would be carried out as well as a mandated quarantine for anyone who had close contact with the individual. The hybrid model's pod structure would be quarantine based on the level of contact, rather than the entire school community.
The Chicago Teachers Union has called for CPS to begin the fall semester with virtual classes.
CTU leaders on Thursday said there is no way to ensure the safety of students and teachers in school buildings this fall as the number of confirmed coronavirus cases continues to rise in dozens of states.
They also want charter schools to start the year virtually.
Union officials said a firm decision soon to begin fall classes virtually will give teachers more time to prepare for that style of instruction.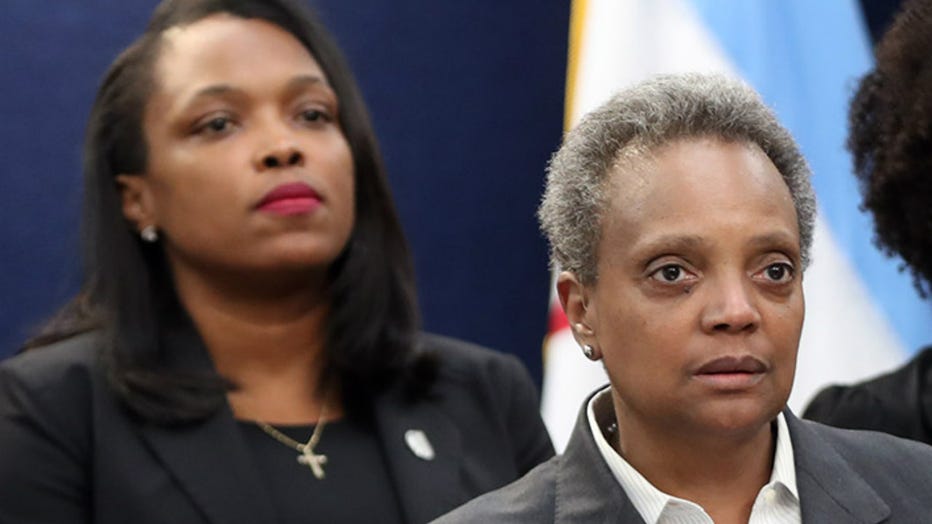 Mayor Lori Lightfoot and CPS CEO Janice Jackson at City Hall. (Brian Cassella/Chicago Tribune/Tribune News Service via Getty Images)
The district shifted to online learning in mid-March when Illinois Gov. J.B. Pritzker ordered all schools to stop in-person instruction as part of the state's plan to slow the spread of the coronavirus.
Also on Thursday, the governor took the unusual step of preemptively filing a lawsuit to ensure school children wear face coverings to prevent the spread of the coronavirus when, and if, schools reopen in a few weeks.
Ariam Abraham, a high school English teacher at Simeon Career Academy on the city's South Side, said she worries about older coworkers who have spent the spring and summer staying home as much as possible, trying to avoid the virus. Her classroom windows don't open and some rooms don't have windows to encourage air flow, Abraham said.
"I love my job, I love my students and if it were up to me, I'd return in the fall," she said. "But it's not up to me. It's up to the virus right now and we know that it's unsafe."
Conversations about whether to resume in-person classes this fall are roiling communities across the country. President Donald Trump and Education Secretary Betsy DeVos have publicly pressured school officials to do so but officials in Los Angeles and San Diego, the two largest districts in California, said this week that their year will begin with online classes only.
"The reason why we've survived in Chicago and Illinois is because no one listened to Donald Trump and Betsy DeVos," Stacy Davis Gates, vice president of the Chicago Teachers Union, said during a video press conference on Thursday. "It just seems clear to me that if you want to live, if you want to be healthy, that anything that those two tell us to do, we do the opposite."
Other districts, including New York City, plan to combine some in-person attendance with online work.
To gather feedback on the preliminary framework, the district has launched a new survey and will hold five virtual meetings (three in English and two in Spanish. Participants must register in advance to participate:
Date: Monday, July 27, 2020
Time: 9:00 a.m. - 10:30 a.m. 
Language: English
Registration Link: https://cpsreopeningconversation1.eventbrite.com
Date: Tuesday, July 28, 2020
Time: 4:00 p.m. - 5:30 p.m.
Language: Spanish
Registration Link: https://cpsreopeningconversation2.eventbrite.com 
Date: Wednesday, July 29, 2020
Time: 9:00 a.m. - 10:30 a.m.
Language: Spanish
Registration Link: https://cpsreopeningconversation3.eventbrite.com 
Date: Thursday, July 30, 2020, 
Time: 4:00 p.m. - 5:30 p.m.
Language: English
Registration Link: https://cpsreopeningconversation4.eventbrite.com 
Date: Friday, July 31, 2020
Time: 9:00 a.m. – 10:30 a.m.
Language: English
Registration Link: https://cpsreopeningconversation5.eventbrite.com 
The Chicago Teachers Union issued the following statement today in response to CPS' release of this plan:
"The Chicago Teachers Union remains steadfast in its call for CPS to resume school this fall with full remote learning.
Though the mayor and CPS released their "framework" for reopening based on a hybrid model with both in-school and at-home learning, the reality is that it is simply too dangerous for students, educators and their families to attend school in person.
The mayor says that CPS' plan for reopening will be "budget neutral," further demonstrating that CPS has no plan to bring on the additional staff necessary to address the risks of conducting in-person school during the pandemic. It's impossible to resume in-person schooling without more investment, including additional teachers to facilitate smaller class sizes and counselors to address the emotional needs of students impacted by the pandemic.
The decision by the mayor and CPS to expend time, energy, and money on a plan to reopen school buildings rather than prepare to make full remote learning more rewarding is irresponsible.
This will inevitably place students and educators at risk of exposure. In a school district where 8 out of 10 students come from Black and Latinx communities that have been hardest hit by the pandemic, the decision to return children and educators to the classroom has the potential to further enflame the pandemic in our city."
The Associated Press contributed to this report.