Cubs, Chicago violence, budget Illinois' top 2016 stories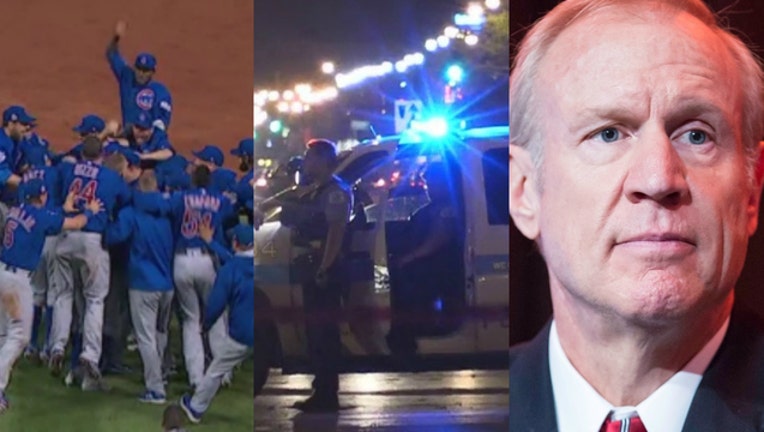 article
CHICAGO (AP) - An historic, curse-busting sports achievement topped Illinois' biggest news stories in 2016, as the Chicago Cubs won a World Series championship for the first time in 108 years.
But from there, Illinois' biggest news stories descended again into dysfunction and corruption, from Chicago's rising violence to the state entering its second year without a budget agreement and two former congressmen running afoul of the law.
Here are the Associated Press' Top 10 Illinois stories of 2016:
1. The Chicago Cubs win the World Series with a heart-stopping, Game Seven victory in extra innings after a rain delay. The championship breaks the longest drought in Major League Baseball, and ends the Billy Goat curse and other superstitions that fans long believed had stood in the way. Slugger Kris Bryant wins the National League's most valuable player award.
2. Chicago's gun violence spikes again, with August going down as the city's deadliest month in two decades and well over 700 people killed by the time the year ended. Among the victims were NBA star Dwyane Wade's cousin, Nykea Aldridge, who was shot while pushing her baby in a stroller, and U.S. Rep. Danny Davis' grandson, Javon Wilson, who was shot following an argument over a pair of basketball shoes.
3. The state enters an unprecedented second year without a budget, leaving service providers unpaid and thousands of college students without grants after Republican Gov. Bruce Rauner and Democratic leaders in the General Assembly fail to settle their stalemate. A six-month stopgap budget is passed, but expires on Dec. 31 with the two sides not even meeting to continue talks.
4. Former U.S. House Speaker Dennis Hastert is sentenced to 15 months in prison for a conviction on banking charges in a hush-money case involving his admitted sexual abuse of youths while he was a wrestling coach and teacher at Yorkville High School in the 1970s. A former wrestler testifies in court about how Hastert abused him.
5. Former U.S. Rep. Aaron Schock of Peoria, once seen as a bright future leader of the Republican Party, is indicted on charges that he misused government and campaign funds for travel, sports tickets and other luxuries, including the remodeling of his Washington, D.C., office in the style of TV show "Downton Abbey." Schock pleads not guilty. His trial is set to begin in February.
6. Democrats take back the U.S. Senate seat formerly held by Barack Obama when U.S. Rep. Tammy Duckworth handily defeats Republican incumbent Mark Kirk in November. Kirk had tried to distance himself from some Republican positions and harshly criticized GOP presidential contender Donald Trump, while his campaign was hampered by numerous verbal gaffes.
7. The Chicago Police Department begins implementing attempted reforms in the aftermath of the Laquan McDonald police shooting scandal that exposed a department culture wracked by racism and cover-up. A new chief is named, the police oversight agency is set to be replaced, and the Department of Justice's civil rights division launches an investigation of the department's practices.
8. Illinois lawmakers approve an overhaul of state energy policy after Exelon Corp. threatens to shut down two of its unprofitable nuclear plants in the state. Critics decry the move as a bailout for the company at the expense of ratepayers, while proponents say the package will promote more environmentally friendly energy practices.
9. Republicans end the Democrats' supermajority in the Illinois House, picking up four seats in November's election. Former private equity investor Rauner poured millions of dollars of his own money into the races, helping Illinois become the biggest spender on statehouse campaign TV ads in the country and one legislative contest in the Chicago area finish as the nation's most expensive.
10. Star Wars creator George Lucas announces he will not build his futuristic art museum on Chicago's prized lakefront, after a preservationist organization sued to stop it in federal court. Chicago Mayor Rahm Emanuel and other city boosters lament the loss, while opponents said the project did not have enough public benefit to deserve the protected location.