Deputies: Women attempted to shoplift, left kids at grocery store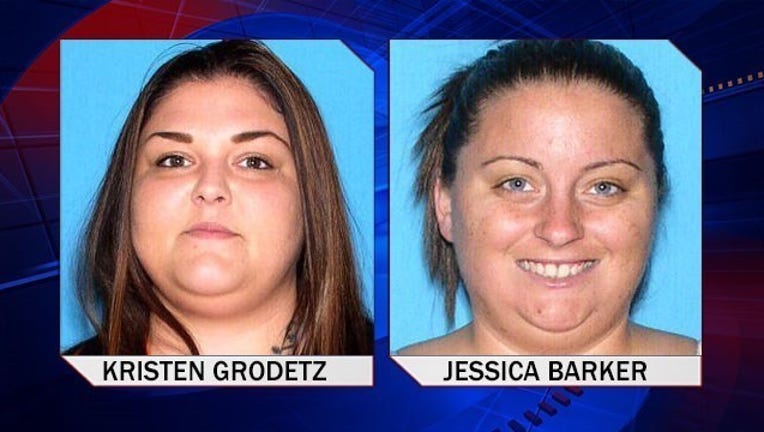 article
FOX 35 News (WOFL) -- Osceola County deputies in Florida are looking for two women accused of leaving two children inside a Publix store in Kissimmee after workers confronted them for allegedly shoplifting.

Authorities said the women, Jessica Barker, 32, and Kristen Grodetz, 25, took a three-year-old with them as they rushed out of the store, but they left two 11-years-old kids inside the store.

Both women are charged with grand theft, child neglect, and contributing to the delinquency of a minor.

The investigation began on Sunday when deputies responded to Publix Supermarket located at 29 Blake Boulevard in Kissimmee. Upon arrival, deputies spoke with a store employee who indicated two females were inside the store shopping with two young girls and a three-year old. The employee said they placed approximately $476 of items in a shopping cart and attempted to leave the store without paying. When a store employee approached the group, the two women exited with the three-year old child, leaving the two young girls in the store.

Detectives spoke with the young girls, both were age 11. They told deputies they were visiting from Lehigh, Florida. One girl was in the care of her mother, Grodetz, and the other girl was with her guardian, Barker. Deputies said the girls were told to place items in the shopping cart and leave the store without paying.

The girls had contact numbers for Barker and Grodetz and deputies attempted to call both women. Barker answered the phone and told deputies she would return to pick up the girls, but several hours passed and she did not. Deputies were able to reach one of the girls' mothers in Lehigh, but she did not have transportation to pick up her daughter.

Based on this information, deputies contacted the Department of Children and Families who took custody of the girls, and arrest warrants were obtained for Barker and Grodetz.

Anyone with information is asked to call the Osceola County Sheriff's Office at 407-348-2222 or Crimeline at 800-423-TIPS (8477).