Detroit Police: Wayne State University officer shot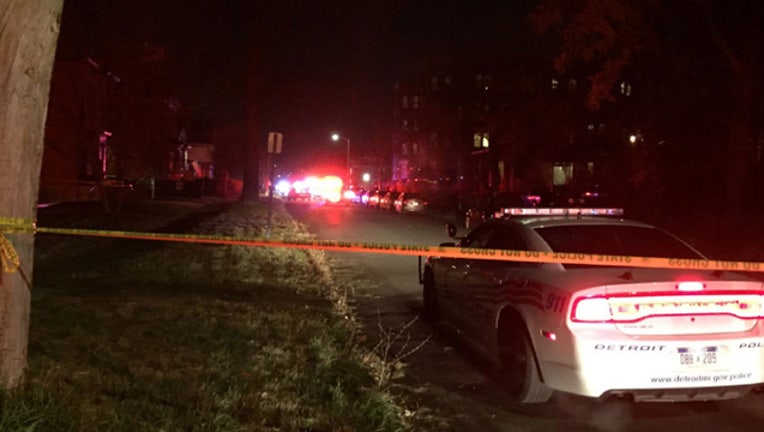 article
DETROIT (AP) — An officer who works for Wayne State University in Detroit was shot in the head while on duty Tuesday near the campus and was in critical condition, officials said.
Authorities said a man they consider a "person of interest" was in custody late Tuesday, but it's unknown whether he was the shooter.
The officer, a five-year veteran, was on patrol when he radioed, saying he was investigating possible thefts of navigation systems from cars and SUVs, and was about to speak to someone apparently on a bike, Detroit Police Chief James Craig said.
"It was boom, boom, boom," Jacob Bolton, 20, who lives nearby, said in an interview later. "I heard some gunshots and I heard somebody hollering. But at first I thought I was dreaming."
Officers who arrived on the scene found the officer injured on the ground, Craig said.
Shortly after the shooting, which occurred around 6:30 p.m., several dozen armed officers were seen in the residential area of Woodbridge within two blocks of the campus.
"A massive manhunt is going on" with local, state and federal authorities, Craig said.
Police are searching for an African-American man in his 40s with a full beard, a university statement posted on the school's website said Tuesday night. It added he was wearing a white T-shirt with white and black lettering, a skull cap and a brown jacket.
The university's president, M. Roy Wilson, spoke to The Associated Press from the hospital where the officer was undergoing surgery and where his family was gathering.
"We have no idea what the motive was in this case — whether it was an ambush or something different," Wilson said. "We don't know."
He cited four recent incidents around the country in which law enforcement officers were shot, adding, "That's something that's crossed our minds."
Wayne State has more than 27,000 students and is located in the heart of Detroit. Wilson said the school employs around 65 officers, some of whom help patrol areas around the campus.
The shootings of police officers in Texas and Missouri on Sunday were the latest in what law enforcement officials say is an alarming spike in ambush-style attacks. A San Antonio detective was fatally shot, and a St. Louis officer was shot twice in the face but survived.
Police officers were also shot and injured during traffic stops in Sanibel, Florida, and Gladstone, Missouri, on Sunday night, but authorities have not suggested those were targeted attacks.
One-third of police officers shot to death on the job this year were purposely targeted by their assailant, according to the National Law Enforcement Officers Memorial Fund.
__
Tarm reported from Chicago.