Duckworth, Kirk primed for blistering US Senate fight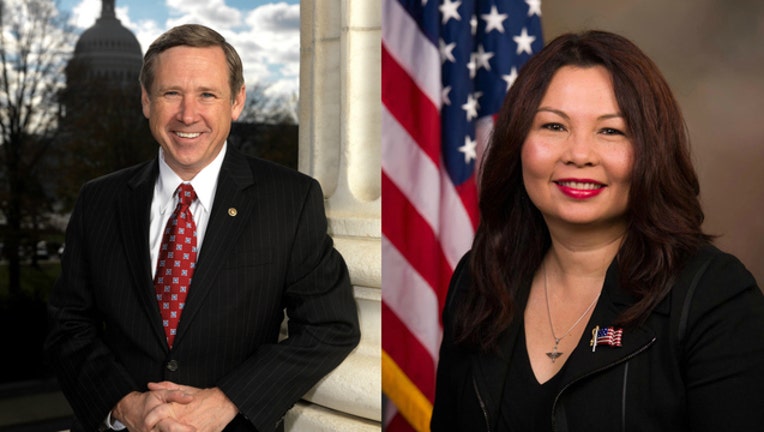 article
CHICAGO (AP) - Illinois voters are getting an early taste of what's expected to be one of the hardest-fought U.S. Senate races in the country.

Republican U.S. Sen. Mark Kirk is accusing U.S. Rep. Tammy Duckworth of "repeatedly failing to protect" veterans in her care. The Democrat counters that Kirk has embraced GOP presidential candidate Donald Trump's "fear mongering."

The remarks after Tuesday night's primary victories for both candidates previewed a race that Democrats see as key to their efforts to retake control of the U.S. Senate.

That goal becomes even more urgent for the party if a Republican wins the White House and the GOP keeps its majority, as expected, in the U.S. House.

The candidates say they'll focus on national security, the economy and veterans' care, among other issues.
Duckworth has said she supports allowing 200,000 refugees - including 100,000 from Syria - into the U.S., a number much higher than President Barack Obama has supported. Kirk's campaign has called that position "naive." He wants to prohibit any refugees from entering the country until federal authorities can guarantee they do not pose a threat.
Kirk also was a vocal critic of Obama's nuclear deal with Iran, which Duckworth supported.
Both Kirk and Duckworth have made compelling personal stories part of their campaign.
Kirk suffered a near-fatal stroke in 2012, but returned to work in Washington a year later following intense rehabilitation. Duckworth, who grew up poor and attended college with help from federal grants, lost both legs after the helicopter she was co-piloting was shot down in Iraq.
Duckworth plans to start her first day as the Democratic nominee for U.S. Senate thanking supporters.

Duckworth's campaign says she'll thank supporters early Wednesday at a Chicago Transit Authority train stop on Chicago's South Side with U.S. Rep. Bobby Rush.

Duckworth will continue the day with a thank-you lunch at a cafe in Springfield followed by a stop in southern Illinois outside St. Louis.