Ella French among 5 fallen Chicago police officers enshrined on memorial
CHICAGO - The Chicago Police Memorial Foundation enshrined the names of five fallen Chicago police officers, including Ella French, on a memorial wall at the Gold Star Families Memorial Thursday.
Among those being honored are four men who died last year from the coronavirus.  
Sergeant Clifford Martin, Sr. a 25-year veteran of CPD
Officer Marco DiFranco, a 21-year veteran of CPD
Officer Ronald Newman, a 19-year veteran of CPD
Field Training Officer Titus Moore, 14-year veteran of CPD
The final name unveiled, marking the 595th name on the memorial wall, was Officer Ella French.
She was a 3-year veteran of the Chicago Police Department assigned to the Community Safety Team. Officer French was shot and killed during an August traffic stop in West Englewood.
Ella French's mother, Elizabeth, shared a letter thanking supporters on Aug. 31, which would have been French's birthday.
In her letter, Elizabeth French writes, "Your beautiful and heartfelt words of comfort, prayers, and donations will be remembered forever. More importantly, your love and support during this difficult time will be a treasure I carry with me for the rest of my life."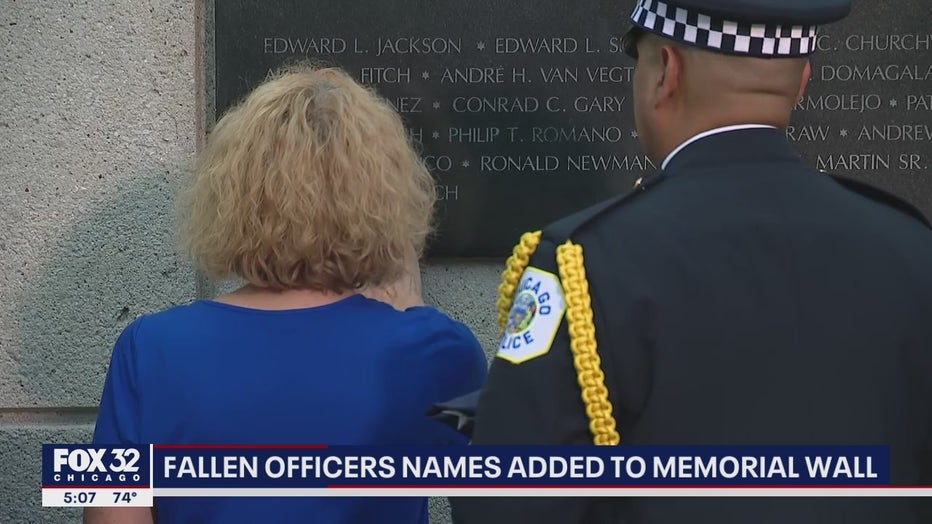 At 7:30 p.m., the Chicago Police Memorial Foundation held its annual candlelight vigil. Last year, it was virtual because of COVID-19.
The vigil was a solemn thank you to fallen Chicago police officers who dedicated their lives to protect the city. The names of 595 Chicago police officers who died in the line of duty were read by their loved ones and supporters.
The vigil, held at Gold Star Families Park and Memorial, started with a Chicago police officer singing the national anthem. Children of the fallen released balloons in their loved ones honor.
"My family became Gold Star Family members 19 years ago when our family experienced the most devastating event of our lives. My husband Ben Perez was struck and killed by a Metra train while he was investigating narcotics activity in the 10th District," said Michelle Perez, chairman of Gold Star Families. "We are here tonight to remind the world that their deaths were not and never will be in vain."
Phil Cline is the Executive Director of the Chicago Police Memorial Foundation.
"It's not how these officers died that made them heroes, it's how they lived," said Cline.
"We must not and cannot forget the sacrifices of these brave officers and their families. Their lives are forever changed," said Chicago Police Supt. David Brown.
"In particular to the families, the sacrifice that you made. While your loved ones were in service and the sacrifice that you continue to make will never, ever been forgotten. We are your family. We will always be here to love and support you. From now until the end of time," Mayor Lori Lightfoot said.
"We will never forget these heroes," Brown added.