Emanuel to appeal ruling forcing public input at Council meetings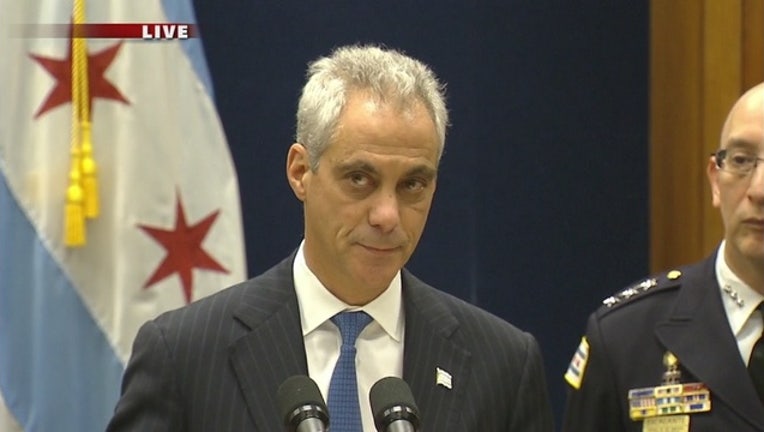 article
SUN-TIMES MEDIA WIRE - Mayor Rahm Emanuel's administration plans to appeal a court ruling forcing public participation at City Council meetings in a legal maneuver that a plaintiff calls further evidence of Emanuel's aversion to transparency, the Chicago Sun-Times is reporting.
"It's throwing every taxpayers' good money after bad. They should just do the right thing, rather than go nuclear on cases like this where they're clearly in the wrong," plaintiff Andy Thayer said Monday.
"They waste tons of time at every City council meeting with all sorts of honorary things they could do in other settings. This is clearly a mechanism by which the mayor and his allies pack the chambers with people who do not oppose them so they can have the appearance of public support for deeply unpopular measures. Whether it's phony reform of the police or one regressive tax measure after another. Or in this case, wasting money on a TIF subsidy to luxury high-rises when people are literally sleeping underneath bridge viaducts just yards away."
Thayer noted that Emanuel spent hundreds of thousands of dollars in legal fees to keep his private emails used to conduct city business from public view, only to release 2,700 of them after a judge ordered him to do so.
"This mayor seems to think that money is no object when it comes to preserving his political prerogative regardless of the consequences to the taxpayer. This is the same mayor who pledged to have the most open administration of any Chicago mayoralty in history. And he has abysmally failed at that. Let people into the meetings as the plain language of the Open Meetings Act requires."
Law Department spokesman Bill McCaffrey explained why the city is "seeking leave to file an appeal" of Circuit Court Judge Diane J. Larsen's December ruling.
"We respectfully disagree with the court's ruling and believe it is contrary to the language and the intent of the Open Meetings Act," McCaffrey wrote in an email to the Chicago Sun-Times.
"The City Council already provides a robust system of public comment through its committee meetings, and taking additional comments at the full City Council meeting is duplicative and unnecessary."
Last month, Larsen ruled that the Chicago City Council twice violated the Open Meetings Act last summer when activists were denied a chance to publicly comment on proposed legislation.
Larsen ordered the Council "to establish and record rules allowing public comments at full City Council meetings."
Larsen cited a 2013 Illinois Appellate Court case when she ruled that the City Council violated Section 2.06(g) of the Open Meetings Act, entitled "Right to Speak."
The section provides that "Any person shall be permitted an opportunity to address public officials under the rules established and recorded by the public body."
"Plaintiffs have shown [the] City Council violated Section 2.06(g) of the Act by not establishing and recording rules for public comment at full City Council meetings," Larsen wrote.
The lawsuit was filed last July by Thayer and Rick Garcia after both claimed they were barred from Council chambers during a meeting.
Thayer alleged that when he tried to attend the City Council meeting on May 18, despite being one of the first in line to enter council chambers, he and several others were not allowed in, even after the meeting had started.
During that meeting, the Council discussed a bill to spend $16 million on a high-rise development in Uptown, which Thayer said "would be within yards of many homeless sleeping underneath Lake Shore Drive viaducts who desperately need affordable housing alternatives."
Thayer alleged that not a single member of the public was allowed into the meeting until 11 a.m. Once inside, he saw empty seats in the Council chambers that were marked "reserved."
There was no opportunity for public comment, the suit stated.
At the next meeting, on June 22, Garcia alleged that no members of the public were allowed in the chambers or in the third-floor gallery, which was barred by police.
"No members of the public waiting in line were allowed in, even when people in the council chambers left," the suit stated.
Again, there was no time designated for public comment.
The suit called for any actions taken at both meetings to be declared void. However, Larsen wrote that some of the allegations that the City Council held and will continue to hold closed meetings contained "disputed issues of fact and questions of reasonableness."
In her December order, Larsen did not say any Council actions should be voided.
During the May meeting, the City Council agreed to revised density bonuses that will let developers build bigger and taller projects to generate millions to rebuild long-ignored neighborhoods on the city's South and West sides.
During the June meeting, the Council approved a change to the city's human rights ordinance that would allow transgender people to use whichever public restroom corresponded to their gender identity.