Extra-alarm fire damages popular Oak Park restaurant: 'We are losing a big institution'
OAK PARK - In the heart of Oak Park, a stubborn fire shut down Lake Street for hours.
"Frankly, we were all in meetings and conference calls and a knock on the door, we have to evacuate. We thought it was a fire drill," said Carol Murphy, who works nearby.
This was certainly the real deal with the restaurant, Delia's Kitchen, burning along with apartments above it.
"My heart dropped and it is just very big disbelief and shock," said Delia Ciobotaru, the current owner of the restaurant. Her mother named the restaurant after her.
Delia's Kitchen has been in Oak Park for about 11 years, serving up breakfast and brunch.
"It is a big tragedy for my family and a huge loss. Both of my parents worked really hard on building this empire. And now it just seems that we have to start all over again," said Ciobotaru.
Putting the fire out was quite the effort, with about 75 firefighters from a dozen fire departments.
"It was tremendous. What a coordinated effort, everybody was working together and it was just– it was intense," said Murphy.
A crowd gathered to watch as firefighters battled for hours, hunting down sneaky flames.
"The fire got in between the walls, and in between the ceiling and the roof. And there was also a false ceiling on the third floor. So that made a lot of layers to go through. It was very difficult to extinguish," said Ron Kobyleski, Oak Park Fire Chief, who just became chief on Friday.
A few businesses have smoke damage. Delia's Kitchen, a nail salon and four apartments are severely damaged.
"I know everything is going to be OK in the end, but we just have to start over and sometimes that's just what you have to do," said Ciobotaru.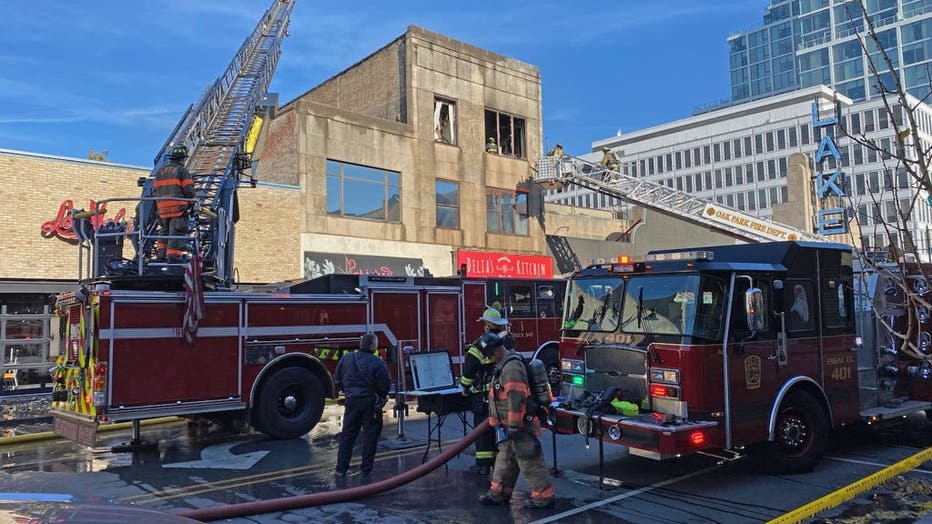 There were no immediate reports of injuries from the fire at Delia's Kitchen at 1034 Lake St., though some buildings were evacuated and roads were closed.
Summer Piggee has lived in Oak Park for 20 years and Delia's Kitchen has become a part of her life.
"We are losing a big institution of not only a business but of a really a family — an Oak Park family," Piggee said. "I believe everybody who lives here comes to Delia's at least once a month. They have the best pancakes in the country."
Piggee said she hopes they can rebuild and come back better. They survived pandemic-related shut downs and kept the majority of their staff employed while most where being laid off.
"Veronica has done so much for this community and we need to support her during this time," said Piggee, who has developed a friendship with the owner over the years. "Like the Chicago Fire, we can rebuild."
The Red Cross is helping residents of four apartments that no longer have a roof. The one thankful note is that no one lost their life.
The cause of the fire is under investigation.
Sun-Times Media Wire contributed to this report.