Family: $2,000 reward for info in shooting of rapper on I-290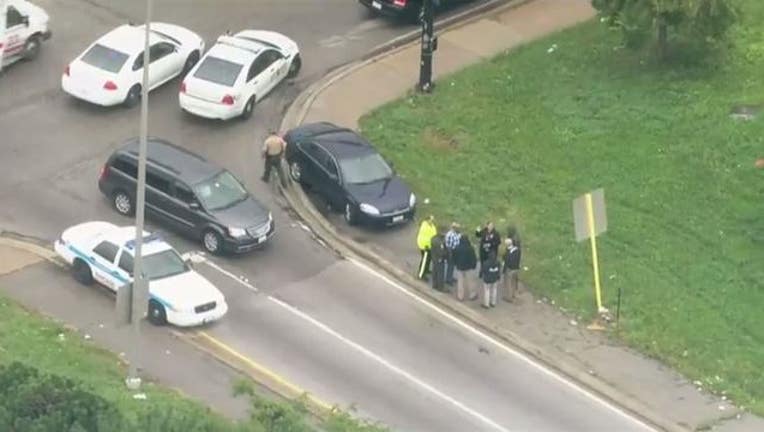 article
CHICAGO (SUN TIMES MEDIA WIRE) - Johnathon Ortiz rapped under the stage name "John Doe," but he was on his way to being anything but anonymous.
Two months ago, Ortiz was a year into working on his music career full time. The 22-year-old was making modest but steady income selling merchandise and performing, including a planned gig opening for superstars Drake and Future at the United Center in October.
But Ortiz was gunned down, apparently at random, as he drove on the Eisenhower Expressway to get breakfast with his girlfriend, a murder that remains unsolved, the Chicago Sun-Times is reporting. Surrounded by friends, family and John Doe fans a few blocks from the exit where Ortiz was killed, his mother announced on Tuesday a $2,000 reward for tips in the shooting.
"I'm begging the public to help us. I'm not looking for vengeance. I'm looking for justice for my son," said Jackie Ortiz. "He's a good kid. He was loved. No mother should ever have to go through this, to be in front of the media to beg for help."
Illinois State Police investigators are working leads in the case, spokesman Master Sgt. Jason Bradley said Tuesday.
Ortiz was one of two people shot on the expressway in the early-morning hours of Sept. 29, and one of 11 shot so far this year on the Eisenhower, also known as Interstate 290. The most recent shooting was Monday morning. There have been 47 shootings this year on Chicago-area expressways, up from 37 last year and more than double the 19 in 2014.
"We are absolutely on the same page with the family," Bradley said. "Someone knows who did this. They're someone's friend, someone's brother . . . somebody needs to come forward if these shootings are going to stop."
Ortiz's girlfriend, Alexis Garcia, was in the passenger seat when a hail of bullets tore through the driver's side of the SUV. She still has a bullet lodged in her back from the attack. Garcia said Tuesday she could be of little help to investigators.
"I wasn't watching. We had just pulled on the (expressway). We hadn't even put a song on the radio," Garcia said. "Then I heard that pop-pop-pop, so loud. I didn't know what it was. Then I saw there was glass in the car" from the shattered window.
"(Ortiz) turned to me and said, 'Baby, I got shot,' and then he took his hands off the wheel," Garcia said, tears rolling down her cheeks.
Garcia helped Ortiz steer the car off the expressway, coming to a stop at the intersection of West Flournoy and South Lockwood. After talking to reporters Tuesday, Ortiz's supporters marched to the intersection and hung pictures of Ortiz and threaded flowers on a chain-link fence, setting candles below the images.
Ortiz and his "NNO" crew of fellow rappers — the initials stand for "No Nights Off" — were hitting their stride. The group was getting a few hundred dollars for local shows, including gigs at House of Blues, and Ortiz had made a few thousand dollars selling T-shirts with his John Doe logo, a ski masked face wearing a gold chain, said Chad Taylor, 26, a friend who rapped with Ortiz and NNO.
Ortiz was the front man for the NNO, and a standout performer on their mixtapes, Taylor said. The pair had filmed a music video in Miami over Labor Day weekend, and they dreamed of moving to Los Angeles in part to get away from the violence in Chicago.
"When I heard he was shot, it was like waking up from a dream," Taylor said. "We were living the dream, and then we got woke up."