Federal jury also finds woman not guilty in death of Endia Martin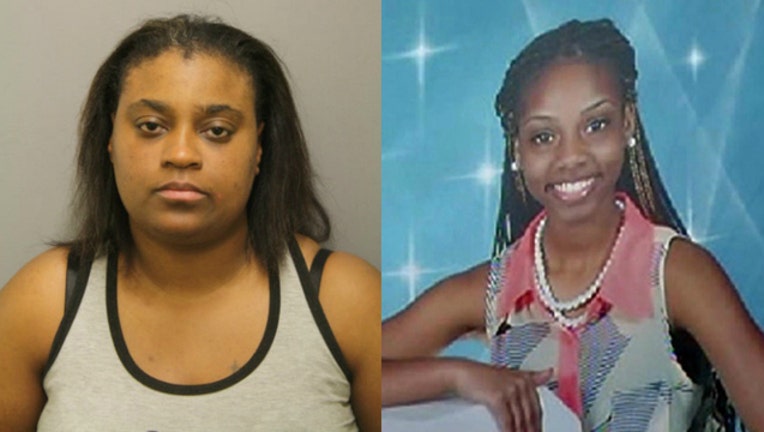 article
SUN-TIMES MEDIA WIRE - The second time was not the charm for prosecutors Thursday as a jury found Vandetta Redwood not guilty of providing the gun used to kill 14-year-old Endia Martin, the Chicago Sun-Times is reporting.
It's the second time Redwood has been charged in connection with the girl's death—first by the state, then by the feds—and the second time she has walked free.
After the jury announced its verdict, Redwood offered a slight smile and hugged a supporter.
Outside the courtroom, she told reporters: "I just want to tell the Martin family that I'm sorry for their loss."
Days after Endia Martin became another symbol of violence in Chicago—slain in April 2014 at the hands of another 14-year-old girl during a fight over a boy—Cook County prosecutors charged Redwood with mob action and obstruction of justice.
But Cook County Judge Donald Panarese Jr. dismissed those charges after viewing cell phone video of the fight, calling it "choppy" and "poor."
Redwood, 35, was free until February 2016, when a federal grand jury handed down its indictment against her. Redwood was accused of handing a .38 special caliber revolver to her teenage cousin amid the street brawl in the 900 block of West Garfield, along with instructions to "Shoot that bitch."
The girl obeyed.
The alleged shooter, who has been charged as a juvenile and has yet to go to trial, was aiming for Martin's friend, Lanekia Reynolds, whose arm was grazed in the shooting.
Then federal authorities decided to charge Redwood. She was charged just days after her other cousin, Donnell Flora, was convicted in Cook County of Martin's murder and the attempted murder of Reynolds. Flora was accused of first handing the gun to the alleged shooter. The feds say the teen then handed it to Redwood before taking it back.
Flora has since been sentenced to 100 years in prison.
At her federal trial, Redwood's defense attorneys pointed the finger at Flora and suggested another teen may have handed the gun to the alleged shooter. Eventually, they told jurors it's possible the girl simply pulled the gun out of her waistband.
The prosecutors' case hinged on the same cell phone video that led Panarese to toss Redwood's original charges in Cook County. The feds acknowledged the video never actually shows Redwood passing the gun to her cousin.
Rather, it shows Redwood calmly watching the scene play out. Prosecutors said she can even be seen smiling and nodding. Assistant U.S. Attorney Andrianna Kastanek walked jurors through the video during closing arguments, pointing out the various ways it corroborated the testimony of witnesses who say they saw Redwood hand off the gun.
The prosecutor said Martin "is now dead because of the decisions the defendant made on that day."
"Adults are supposed to protect children from gun violence," Kastanek said. "Not enable it."
Redwood interrupted Kastanek's closing argument Wednesday, suddenly shouting in front of the jury that "they f—ing lied on me."
"I didn't kill no baby," Redwood said. "I have my own child."
And as her attorneys tried to calm her down, Redwood also insisted that, "they made that video up."