Filing: Suspected kidnapper's girlfriend fainted helping FBI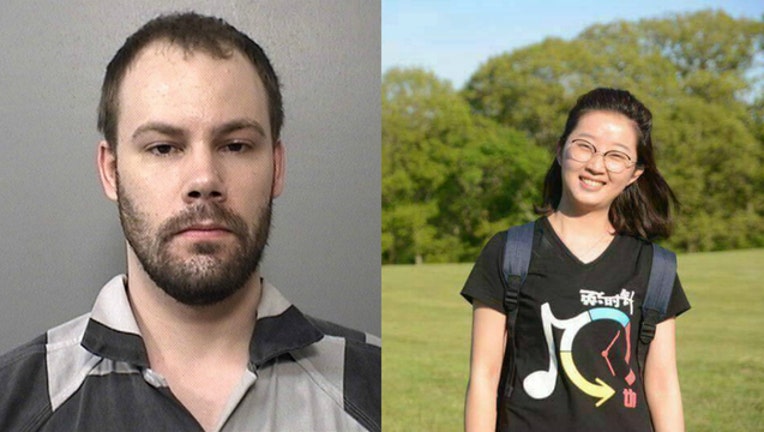 CHICAGO (AP) — The girlfriend of a 28-year-old man charged in the kidnapping and killing of a University of Illinois scholar from China was so nervous as she secretly recorded him for the FBI before his arrest last year that she fainted at least once in front of him, according to court filings.
The revelation came in a flurry of pretrial motions filed Monday by Brendt Christensen's lawyers in central Illinois, where the university is located and where 26-year-old Yingying Zhang was last seen getting into Christensen's black Saturn Astra on June 9 last year.
One motion asks U.S. District Judge Colin Bruce in Urbana to dismiss the headline charge — kidnapping resulting in death. It argues there's no evidence that Christensen forced or tricked Zhang into the car. Authorities say Zhang is dead, though her body has never been found.
His attorneys also asked to change the trial's location to western Illinois or Chicago, citing what their motions describe as a "tsunami" of "inflammatory and inherently prejudicial" media reports that render a fair hearing in the region impossible.
Investigators first questioned Christensen three days after Zhang disappeared, then on June 16 enlisted the girlfriend's help. Agents want people wearing wires to stay calm so suspects aren't tipped off they're being recorded, which can put people recording in danger.
But in texts to agents supervising her, the girlfriend — referred to only by the initials T.E.B. — describes being overwhelmed, her "heart ... pounding" as she recorded Christensen. She says she "went into shock and passed out while talking to" Christensen, the filings say.
One place where she recorded Christensen was at a June 29 vigil for Zhang amid the search for her. He was arrested the next day.
Among the other revelations in the filings was that another female student reported earlier the day Zhang disappeared that a man wearing sunglasses pulled up to her in a car, flashed a badge and claimed to be an undercover officer. He asked her to get in; she refused and walked away. The woman later indicated the man looked similar to Christensen. The defense wants any testimony on that incident barred.
In addition to having a girlfriend, Christensen was also married at the time. Another of the new defense motions argues some statements he made to his spouse in private — including about "disturbing dreams" he'd been having — were protect by marital privilege.
His lawyers also contend agents misused a warrant allowing them to search Christensen's car to enter his apartment on June 14, waking him and his wife around midnight. They say his wife consented to a search of the home under duress.
Christensen's trial is slated to begin Feb. 27. He has pleaded not guilty.
A spokeswoman for the U.S. attorney's office in central Illinois declined comment Tuesday. Prosecutors have until Jan. 29 to respond to the defense motions with filings of their own.