Chicago firefighter killed responding to high-rise fire, department's 2nd death in as many days
CHICAGO - For the second time in two days, a Chicago firefighter has died while battling a fire.
"This has been a tragic week for us. Unprecedented," said Chicago Fire Commissioner Annette Nance-Holt, as she fought back tears.
It happened around 8 a.m. Wednesday when a massive fire broke out on the 27th floor of a condo building near Division and DuSable Lake Shore Drive in Chicago's Gold Coast.
Because the elevators weren't working, firefighters had to carry their heavy gear up a stairwell. That's when 55-year-old Lt. Jan Tchoryk collapsed on the 11th floor. 
"A mayday was called for help," said Nance-Holt. "The crews started treating him right away by doing CPR on the scene and got him back to the lobby where they continued."
An eyewitness outside the burning building saw the stricken firefighter brought out on a stretcher. 
"About 25 firefighters were around the stretcher and medics working on someone. And I think that's when everybody took a pause that this is something really serious," the witness said.
SUBSCRIBE TO FOX 32 ON YOUTUBE
Paramedics rushed Tchoryk to Northwestern Memorial, but he couldn't be revived.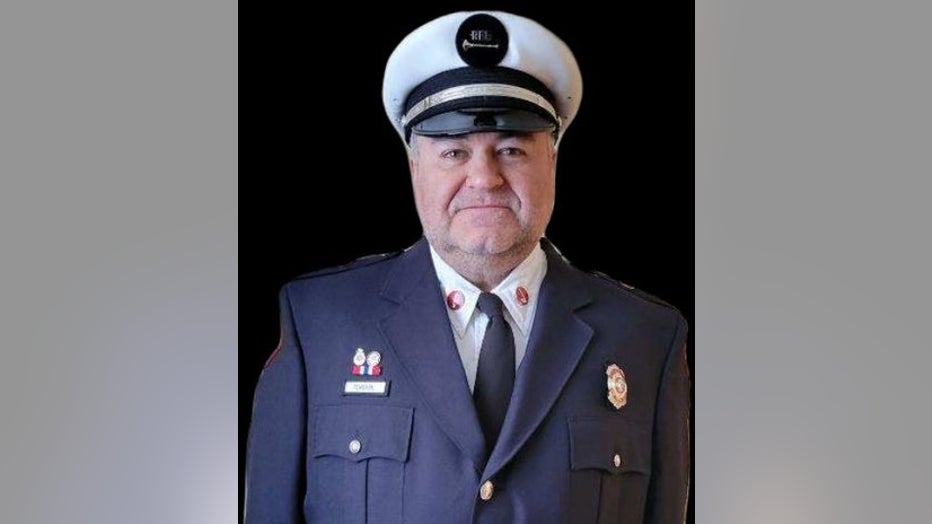 Tchoryk had been a Chicago Firefighters since 1997 and worked out of Tower 10 on Division, which is now draped in purple bunting.
On Tuesday, another veteran Chicago firefighter, 49-year-old Jermaine Pelt, was killed while battling a fire on the city's far south side. 
"I can't tell you how this impacts us losing two members in two days," said the Fire Commissioner. "As I said yesterday, this job is dangerous. And you never know if you're coming home despite the best training and equipment we can provide."
Chicago Mayor Lori Lightfoot rushed to Northwestern Memorial Hospital and met with the fallen firefighter's family. 
"It is unprecedented to lose two firefighters on back-to-back days," Lightfoot said. "In different circumstances. But each of them responding to the call to serve."
Tchoryk was described as an active outdoorsman and Navy veteran who served in Desert Storm. But perhaps he was most proud of his son, who just last month was sworn in as a Chicago police officer.

Three other Chicago firefighters were injured battling the condo fire. All three were initially hospitalized in fair to serious condition.