Florida man arrested in Chicago suburb after heroin found hidden in car, boots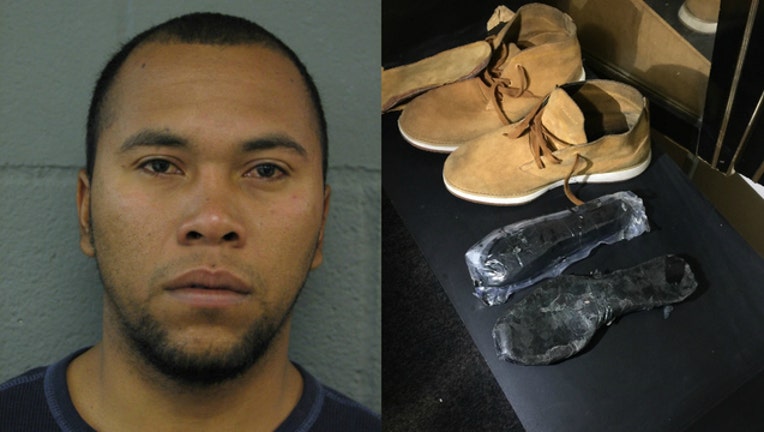 article
FRANKLIN PARK (STMW) - A Florida man was arrested after heroin was found in his car—and in his custom-made boots—during a traffic stop last week in west suburban Franklin Park.
William Fajardo, 26, of West Palm Beach faces felony counts of possession of a controlled substance, and manufacture or delivery of more than 900 grams of heroin, according to the Cook County sheriff's office.
The sheriff's Street Crimes Suppression Unit stopped a red 2007 Mitsubishi Eclipse for failure to signal when turning in the 2400 block of Mannheim Road in Franklin Park at 11:25 p.m. Feb. 27, according to a statement from police.
Officers learned during the traffic stop that Fajardo was suspected of having heroin and drug paraphernalia in the vehicle, according to police. He was taken into custody and the car towed to sheriff's police headquarters.
A Des Plaines K-9 unit was called to search of the vehicle, where it hit for drugs in the passenger-side vent, according to the statement. A black sock was found in the vent with a clear plastic bag inside containing heroin.
According to the sheriff's office, Fajardo had driven to Chicago from New York.
More drugs were found in a motel room where Fajardo was staying with a friend, according to police. The friend consented to a search of the room and officers found the boots, which the friend was "inadvertently" wearing. They had custom-made insoles which contained more than 900 grams of heroin.
Fajardo's friend was not involved, according to the statement. Fajardo was planning to deliver the drugs to another unidentified man.
Bond was set at $30,000 for Fajardo during a hearing Monday at the Maywood courthouse.