Four charged with Wadsworth pistol-whipping, shooting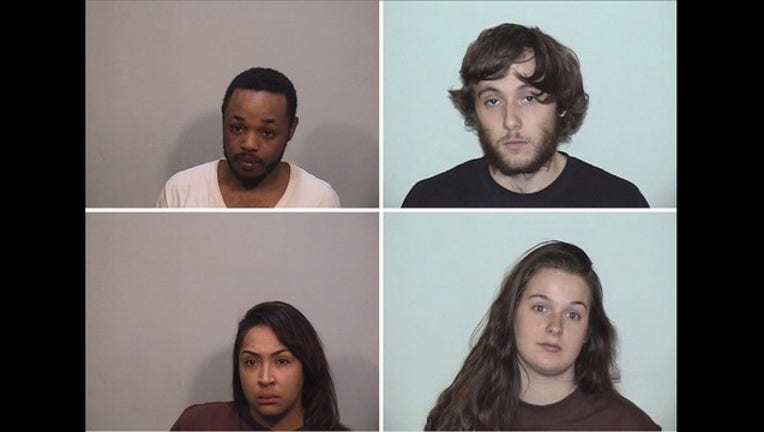 article
WADSWORTH (Sun-Times Media Wire) - Four people have been charged in connection with a fight in which three people were pistol-whipped and one of them shot Thursday night in north suburban Wadsworth.
A group of four people– 22-year-old Paige R. Bothern; 20-year-old Christopher P. Keough; 22-year-old Milton K. Stricklin; and 22-year-old Veronica H. Diehn–drove to the 15200 block of West Wadsworth Road at 10:38 p.m. and got into a fight with the three victims, according to the Lake County sheriff's office.
The fight stemmed from an earlier argument between Bothern and one of the victims, a 21-year-old woman.
During the later fight, Stricklin pulled a handgun and used it "to batter the victims about their faces and bodies," the sheriff's office said. He then fired the gun multiple times, striking a 22-year-old woman. The four suspects then drove away.
The woman was taken to a hospital with non-life-threatening injuries, the sheriff's office said. The other victims–the 21-year-old woman and a 25-year-old man–refused medical treatment.
Zion police later found all four suspects in a vehicle in the 2300 block of Ravine Drive in Zion, and took them into custody, according to the sheriff's office.
Stricklin, of the 1300 block of Chestnut Street in Waukegan, was charged with felony counts of aggravated battery with a firearm, aggravated discharge of a firearm, aggravated battery causing great bodily harm, and mob action, the sheriff's office said.
Bothern, of the 2700 block of 31st Street in Zion; Keough, of the 700 block of Whitney Avenue in Winthrop Harbor; and Diehn, of the 2400 block of Ezekiel Avenue in Zion, were each charged with felony counts of aggravated battery and mob action, the sheriff's office said.
All four appeared in court Friday afternoon in Waukegan, where bond was set at $200,000 for Stricklin; and $35,000 for the others. All four are due back in court May 4.