Government shutdown closes Statue of Liberty, Ellis Island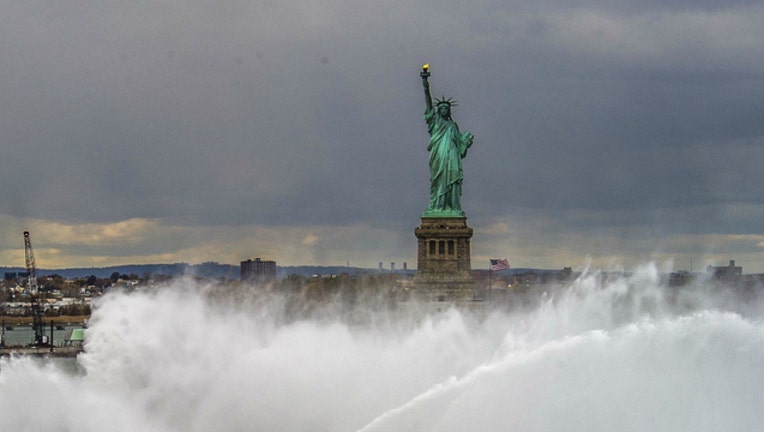 article
NEW YORK (AP) -- The U.S. government shutdown had an instant impact on two of the world's top tourist destinations: the Statue of Liberty and Ellis Island.
The National Park Service announced that both New York sites would be closed Saturday "due to a lapse in appropriations." Late Friday, the U.S. Senate failed to approve legislation to keep the government from shutting down after the midnight deadline.
The park service said the closure of the Statue of Liberty National Monument and Ellis Island was effective immediately and until further notice. Gov. Andrew Cuomo vowed to find the money to reopen the Statue of Liberty as soon as possible, but it remained closed Saturday.
"I didn't expect this," said Anabell Coredor, who had bought six tickets for her family to visit the famed sights. "We came all the way from Miami for this."
It was their only chance, since they had to travel home later Saturday.
For ticket refunds, visitors were told to contact the private Statue Cruises company that runs ferries from lower Manhattan to the statue and Ellis Island, the historic entry point in New York Harbor for immigrants to the United States that is now a museum.
The ferry company honored ticket holders for a cruise in the bay -- to at least see Lady Liberty from afar. Many declined.
"To get this close where you can see them, and the government shuts them down -- that's very, very frustrating," said Dan O'Meara, a firefighter from Fresno, California, who is descended from an Irish immigrant family that entered through Ellis Island. "But now, we're not allowed to go out there and see it."
O'Meara was in New York working as part of a team helping to train fellow New York firefighters in hazardous materials. Free for the weekend, he remained land-bound, with some bitter comments about the government.
"You have to blame Trump and the Republicans for allowing the shutdown, and they shouldn't get paid," O'Meara said. "After all, working people who are out of jobs are not getting paid."
Also not earning money was Statue Cruises, which charges $18.50 per ticket to see the statue dedicated in 1886 as a gift from France. On normal days, as many as 3,000 people board the ferries to take a close look, said Rafael Abreu, spokesman for the ferry company whose offices are on Ellis Island. During the shutdown, at least half of the daily $55,000 or so in revenue would be lost.
On Saturday at the Manhattan ferry dock, Abreu said, "there was confusion and surprise -- that the government had shut down, especially among the international visitors. They were shocked by this concept."
Saturday was also the last chance to see Liberty and Ellis islands for Mike Van Kirk, an accountant from Phoenix, who had to leave Saturday after a three-day visit with his wife. They were told Friday that tickets to see the statue were available, only to arrive in lower Manhattan the next morning and learn none was being sold.
"We're definitely disappointed," he said "I guess we'll just walk around now and go see anything's that's not government."
Cuomo called the statue "a symbol of America" whose closure reflects a government trying "to kick our immigrants."
"I'm volunteering that the state will pay to keep the Statue of Liberty open because it is the symbol of our nation," said Cuomo, adding that a precise plan is in the works.