Grundy County sheriff's deputy shot during traffic stop; suspect in custody
WARNING: Some may find the footage of the shooting disturbing.
GRUNDY COUNTY, Ill. - A Grundy County sheriff's deputy was shot Thursday evening in Mazon.
Officials said the deputy was in "very good shape" Friday after his protective vest stopped two of three bullets fired at him during a traffic stop and chase, officials said.
Authorities said the shooting occurred around 5:10 p.m. during a traffic stop.
The deputy initiated a traffic stop on IL Route 47 at DuPont Rd, and the vehicle fled from the scene, police said.
The vehicle was involved in two separate motor vehicle crashes prior to coming to a stop near the railroad crossing at Grand Ridge Road, police said.
The offender then fled on foot. 
During the foot pursuit, the offender allegedly fired multiple gunshots at the deputy.
The deputy was struck in the forearm, chest and back and was taken to a local hospital in stable condition.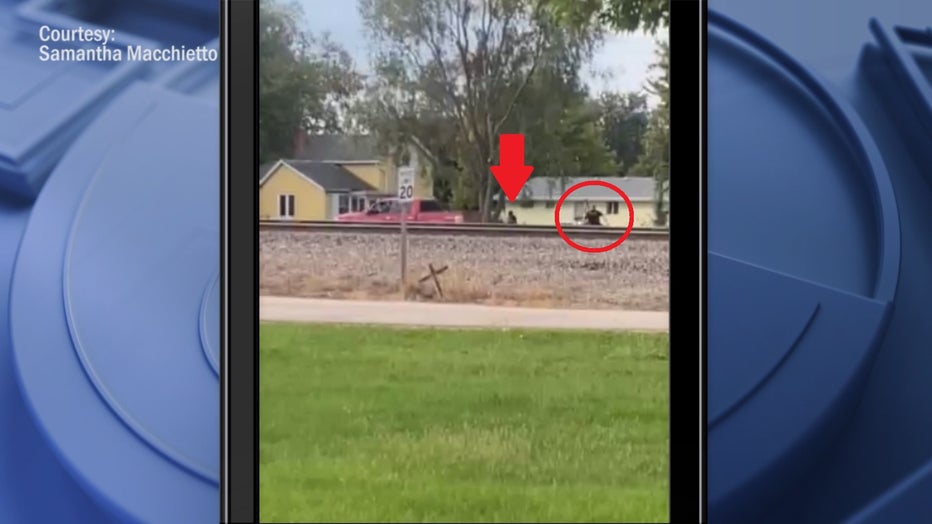 The deputy has been on the job less than five years and his bulletproof vest may have saved his life. One of the bullets became lodged in his vest, officials said during a news conference.
DOWNLOAD THE FOX 32 NEWS APP FOR BREAKING NEWS ALERTS
"We're very, very lucky that the ballistic vest stopped those two bullets," Sheriff Ken Briley told reporters Thursday night.
Officers searched the area and eventually located the suspect. The suspect is now in custody. He's been identified as an 18-year-old from Joliet.
Before Thursday, a police officer had not been shot in Grundy County in 15 years, Briley said.
The Sun-Times Media Wire contributed to this report.