Hastert revelations could increase chances for prison time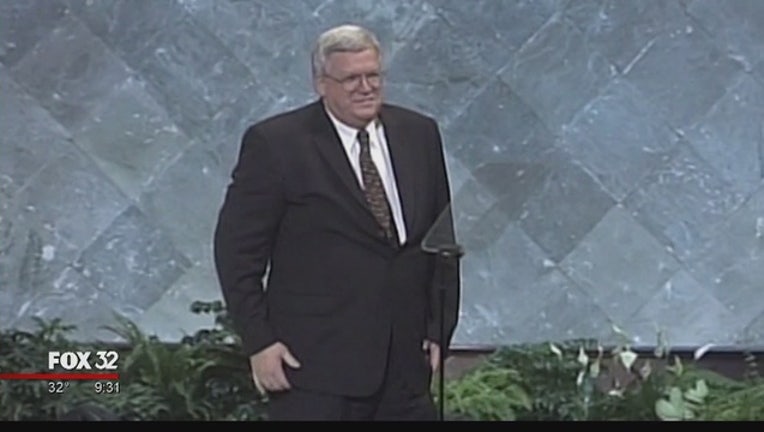 article
CHICAGO (AP) - Prosecutors have given the federal court overseeing Dennis Hastert's hush-money case enough evidence of sexual abuse for the judge to at least consider sentencing the former House speaker to more than the suggested maximum of six months behind bars.
Hastert has pleaded guilty to breaking banking law in a scheme to pay $3.5 million to ensure someone identified in court papers as "Individual A" stayed silent about being abused when he was a 14-year-old student at the Illinois high school where Hastert was the wrestling coach. The statutory maximum for the banking violation is five years in prison, but sentencing guidelines suggest no more than a matter of months.
Federal judges have enormous leeway, so Judge Thomas M. Durkin will not be bound by the guidelines when he sentences the 74-year-old Republican on April 27 in Chicago. A closer look at the process and Hastert's likely fate:
___
Q: WHAT'S HASTERT CHARGED WITH?
A: Prosecutors refer to sexual abuse on nearly every page of a 26-page presentencing memo filed late Friday. But Hastert's conviction isn't for sexual abuse. It's for the comparatively technical charge of structuring huge cash withdraws to pay Individual A, first withdrawing $50,000 at a time and then later switching to just under $10,000 to evade reporting requirements.
Prosecutors said in the Friday filing that they would have preferred sex-abuse charges, but the statute of limitation on sexual abuse ran out decades ago. Still, prosecutors considered Hastert's conduct with the victims, all boys 14 to 17 years old, so egregious that they chose to pursue the banking charge to ensure he faced some punishment.
Someone convicted today of sexually abusing children would probably be imprisoned for at least 20 years, said Minnesota-based attorney Mike Finnegan. Many states, including Illinois, have extended statutes of limitations on child sexual abuse or eliminated the limitations completely. But those changes cannot be applied retroactively to abuse that happened decades before the law was revised.
___
Q: WHAT ARE THE SEX-ABUSE ALLEGATIONS?
A: Prosecutors say Hastert sexually abused at least four members of the wrestling team when he taught and coached at Yorkville High from 1965 until 1981. They cite Individual A as saying the abuse occurred in a motel room when he was 14 and on the way home from wrestling camp. Hastert allegedly touched others in a locker room after saying he would give them massages. Two wrestlers said Hastert performed sex acts on them. Prosecutors also described a recliner where Hastert often sat in the locker room with a direct view of the stalls where the boys showered.
___
Q: HOW CAN PROSECUTORS BRING UP SEX ABUSE WHEN HASTERT WAS NEVER CONVICTED OF THAT CRIME?
A: The rules governing evidence at a sentencing are far less stringent than at a trial. And federal statutes push the door wide open for prosecutors to bring up the defendant's character and past misbehavior, especially if it sheds light on the crime of which that person is convicted. In Hastert's case, prosecutors noted the sexual abuse was "a core component" of why he sought to structure his bank withdrawals so they would not be flagged by authorities.
Hastert's attorneys have the option of challenging the truth of the abuse claims, but they have signaled they will not. Doing so carries the risk of Hastert appearing to call his accusers liars. That would almost certainly raise the judge's ire and increase the chances of prison time.
___
Q: WHAT SENTENCE DO PROSECUTORS WANT?
A: That's not entirely clear. Their filing does not recommend a specific sentence as such memos often do. The government was partly constrained by the 2015 plea agreement with Hastert, which says both sides agree that the guidelines put the range at zero to six months in prison, according to Steve Greenberg, a Chicago-area defense attorney.
But prosecutors did not have to include such graphic detail about sexual abuse in Friday's paperwork. The fact that they did, Greenberg argued, is a signal they want what they could not ask for directly: notable prison time. While it would be rare for the judge to go too far beyond the outer range of the guidelines, he thinks there's a chance Durkin could impose a two- to three-year prison sentence.
"It's in the realm of possibilities," he said, "because Hastert's underlying conduct is so offensive."
Prosecutors devoted three pages of their Friday filing to conditions of Hastert's release from prison. But federal court rules in northern Illinois require that prosecutors spell out those conditions before sentencing, regardless of whether someone faces a day behind bars or decades. The inclusion is a formality and doesn't necessarily suggest prosecutors would be fine with a sentence that includes no prison time at all.
___
Q: WHAT SENTENCE IS HASTERT SEEKING?
A: Defense lawyers asked in a filing last week for the judge to spare Hastert prison time and give him probation instead, citing their client's health and the steep price they say he's already paid in public shame. Hastert, they added, nearly died from a severe blood infection that spread to his spine in November. Judges often factor in a defendant's health in deciding on an appropriate punishment, but even life-threatening illness does not preclude someone from going to prison. Prosecutors alluded to that, noting that there are plenty of federal prisons with the medical facilities to treat Hastert's ailments.