Heroin overdoses remind ex-Supt. Cline of 2006 epidemic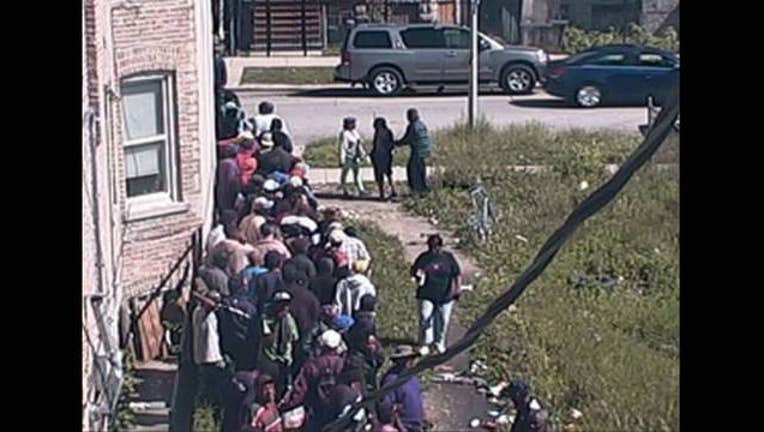 article
CHICAGO (Sun-Times Media Wire) - As investigators work to pinpoint the cause of a rash of heroin overdoses that sent at least 74 people to hospitals in 72 hours last week, the flareup triggered memories of a deadly 2006 overdose epidemic.
"Fentanyl was the first thing that popped into my mind," former Chicago Police Supt. Phil Cline said about hearing of the recent overdoses.
Heroin laced with Fentanyl, a painkiller that is 30 to 50 times more powerful than heroin, was responsible for a rash of fatal overdoses in early 2006.
"The craziest thing back then was that when other addicts heard people were overdosing, they ran to find the stuff right away because they wanted the most powerful high," Cline said Sunday. "They think other people's tolerance is low and they can get that high without going over the edge. But they're wrong."
Cline said that in 2006, almost immediately, his officers began interviewing people who had overdosed about where they'd bought their drugs and undercover police began buying the drugs for testing, the Chicago Sun-Times is reporting.
The information was passed along, and within months, investigators with the Drug Enforcement Agency were able to trace the tainted heroin to a single lab in Mexico that was ultimately raided and shut down, Cline said.
However, dozens of Fentanyl-related deaths were recorded in Cook County in 2005 and 2006. Other cities around the country dealt with the problem as well.
According to the National Institute on Drug Abuse, street names for Fentanyl include Apache, China girl, China white, dance fever, friend, goodfella, jackpot, murder 8, TNT, and Tango and Cash.
Cline said Sunday that many of the same tactics will likely be used to figure out how, during a stretch lasting from Wednesday through Friday, at least 74 people overdosed and ended up at hospitals mostly of the West Side.
Some of them were found with needles still sticking out of their arms, health officials said.
Chicago Police spokesman Anthony Guglielmi confirmed Sunday that shoe leather is being expended.
"Investigators are hitting the pavement and trying to determine what the actual source is, if this is a tainted batch, and, if so, what it's tainted with," he said.
Chicago Police Supt. Garry McCarthy has made finding the source behind the overdoses a priority, said Guglielmi, who added that top commanders plan to update McCarthy on their findings Monday morning.
Updated numbers on any weekend overdoses in the area were not available Sunday. Health officials stated Saturday that the frequency of cases had declined.
"Hospitals continue to evaluate patients who have overdosed, but the rate at which they are presenting at the hospitals has slowed down," said Cristina Villarreal, a spokeswoman for the Chicago Department of Public Health.
Meanwhile, paramedics have armed themselves with additional Narcan, a nasal spray that can reverse the effects of an opiate overdose, Fire Department spokesman Larry Langford said.
In addition, investigators are waiting for toxicology results in what police suspect is the drug-related death of a 49-year-old man foundThursday in an apartment in the East Garfield Park neighborhood.
Earlier this summer, many Chicagoans were shocked by a photo included in a federal court filing that showed a line of people extending down a West Side block who were waiting to buy heroin in broad daylight.
The photo was taken in the 3700 block of West Grenshaw, just south of the Eisenhower Expressway, which has come to be known as "Heroin Highway" because of the accessibility it provides to city and suburban heroin customers.
Earlier this year, the Illinois Consortium on Drug Policy at Roosevelt University released a report that said Illinois ranked 44th in the nation in 2012 in state-funded treatment admissions for heroin addiction. And Gov. Bruce Rauner's proposed budget would cut state-funded treatment 61 percent, excluding Medicaid, the report warned.
The report also noted that the Chicago metropolitan area was ranked first in the nation in the number of people admitted to emergency rooms because of heroin use. And Cook County was first for the number of arrestees who tested positive for the drug.
"Whatever it is that's going around, you just hope they can find out whose putting this stuff out there and put a stop to it or else there's going to be a lot of deaths," Cline said. "The addicts think they can handle it but they can't."