House deals Rauner setbacks, but he wins on 'right-to-work'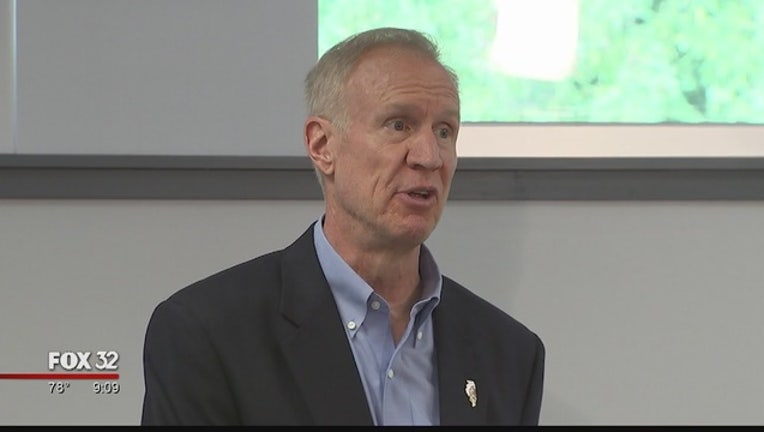 article
SPRINGFIELD, Ill. (AP) - The Illinois House dealt Gov. Bruce Rauner a series of setbacks Wednesday by overriding vetoes of measures that represented the Republican's political, as well as policy, disputes with Democrats.
Rauner lauded one victory, a failed override of a ban on anti-union "right-to-work" zones.
The lowest point for the governor came when the House voted 112-0 to overturn his veto of a financial reporting measure that had devolved into a political spat with Democratic state Comptroller Susana Mendoza.
The legislation would require state agencies to report to the comptroller monthly on bills they've incurred.
Current law requires once-a-year reporting. Mendoza said that's of little help when the state trying to get ahead of $16.6 billion in overdue bills spawned by a two-year budget stalemate.
"The only way to ... get on a better financial footing is to know the true extent of how bad our finances are," Mendoza said at a Capitol news conference after the vote.
The Associated Press reported this month the most recent data indicates that, as of June 30, $7.5 billion of the backlog had not even been sent to the comptroller for processing.
Rauner complained Mendoza is trying to "micromanage" state spending. The bill's sponsor, Hoffman Estates Democratic Rep. Fred Crespo, said current information "is not even enough to macro-manage."
Rauner, who announced on Monday that he'll seek re-election in 2018, kept a campaign promise alive when the House failed by one vote to overturn his veto of legislation to prohibit local right-to-work zones . The zones allow a worker to hold a job with union protection without joining or paying union dues.
"Local communities should be able to decide how best to compete for jobs ... and give the freedom to individual workers to support a union at their own discretion," Rauner said in a statement.
The House also failed to override Rauner's veto of a plan to set up an independent insurance company to compete for workers' compensation coverage . But it did override Rauner on legislation to prohibit employers from seeking applicants' salary histories and a measure pushed by Democratic Treasurer Michael Frerichs designed to make it easier to claim life insurance benefits when a policyholder dies.
The Senate reversed a veto on Democratic Attorney General Lisa Madigan's legislation to create safeguards for collegians and others seeking student loans through private companies.
___
Contact Political Writer John O'Connor at https://twitter.com/apoconnor . His work can be found at https://apnews.com/search/john%20o'connor
___
Sign up for the AP's weekly newsletter showcasing our best reporting from the Midwest and Texas: http://apne.ws/2u1RMfv