I-80/94 reopens after semi fire, HazMat situation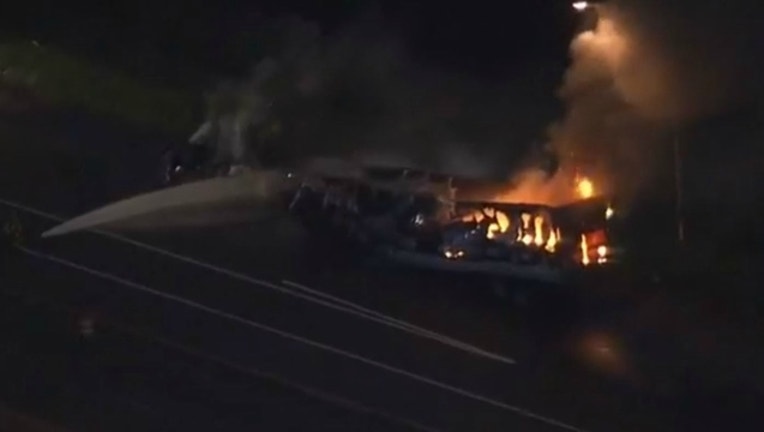 SUN TIMES MEDI A WIRE - A semi truck fire caused a hazardous materials situation Thursday morning, temporarily closing all lanes I-80/94 and causing evacuations in Portage, Indiana.
A 65-year-old Nebraska man driving the 2012 Freightliner semi with a box trailer "felt something was not right" and pulled over in the westbound lanes of I-80/94 just east of the State Road 249 exit in Portage shortly after 5 a.m., according to Indiana State Police.
When he pulled over, the back tandems of the tractor were on fire, police said. The semi and box trailer, which was loaded with hazardous material corrosives  on their way from Connecticut to Bensenville, became fully engulfed in flames.
As of 6:50 a.m., the fire had been put out, police said. All lanes of I-80/94 were shut down after the crash, but reopened at 9:15 a.m., police said.
No injuries were reported. The fire is believed to have been caused by the brakes.
While the fire was burning, businesses north of the fire in the Ameriplex Industrial Center were being notified about the fire and "evacuated if needed," state police said. The evacuations were no longer necessary after the fire was extinguished.