Illinois lawmakers vote to spare 2 nuclear plants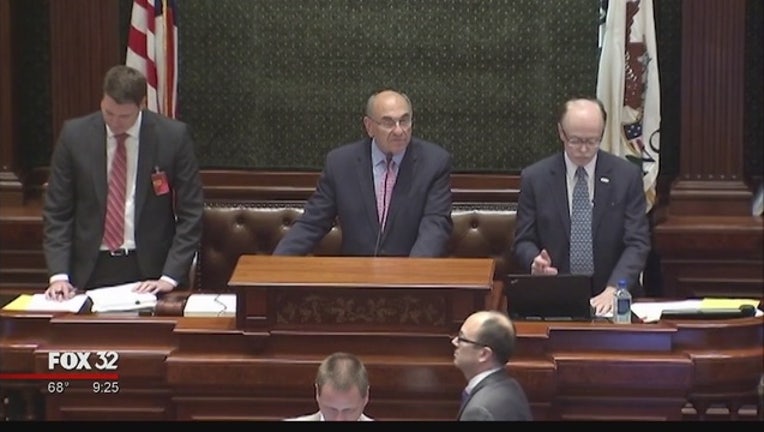 article
SPRINGFIELD, Ill. (AP) — A multibillion-dollar subsidy for power giant Exelon Corp. to keep two unprofitable nuclear plants in Illinois operating during the next 13 years was on its way to a supportive Gov. Bruce Rauner Thursday after days of rushed negotiations and hours of contentious debate by lawmakers.
The Senate endorsed the measure, praised as a forward-looking, clean-energy plan and lambasted as a bailout for a massive, profitable corporation, on a 32-18 vote just an hour after the House OK'd it 63-38.
The measure provides Exelon with $235 million a year as a reward for the carbon-free energy its nuclear reactors produce — a prize Exelon argued it was just as entitled to as the "clean" energy producing wind and solar industries.
Without the money — financed by an increase in electric rates — the company threatened to close nuclear plants in Clinton and the Quad Cities during the next 18 months. That would threaten reliability, in a state with more nuclear power reactors — 11 — than most, proponents said.
"One of the best things we've got going for us is the richness and diversity of our (energy) supply," said Senate sponsor Chapin Rose, a Mahomet Republican. "Let's keep the supply stable, keep it reliable, and keep prices low."
The plan would cost 3.1 million northern Illinois customers of Exelon's power-distributing subsidiary, ComEd, an average of 25 cents more per month during the life of the plan. In central and southern Illinois, Ameren's 1.2 million customers would pay an additional 12 cents or less monthly, the company said.
Both companies said the increase could be less because of rate caps that Rauner, who has argued repeatedly in favor of saving jobs, insisted on Wednesday in return for his support, lawmakers said. After two years of debate and dozens of drafts, House sponsor Rep. Robert Rita, a Blue Island Democrat, said, "It's as agreed-to as it's going to get."
The plan is embraced by environmentalists because it requires hundreds of millions of dollars in energy efficiency infrastructure and programs, and hundreds of millions more in assistance for low-income power users.
Critics claim it's a ratepayer goody tossed to a company that made $2 billion last year. They say Illinois produces so much energy it exports 41 percent of it. In Ohio, Exelon is opposed to proposed subsidies for a generator's nuclear and coal-powered plants, said Wheaton Republican Rep. Jeanne Ives.
"Wind and solar have been subsidized for decades, so Exelon should be arguing like they have in Ohio for no state subsidies and let the market determine," Ives said. "Instead they've gotten in bed with renewables, which we know cannot fuel a modern economy."
Rep. Michael Smiddy, a Hillsdale Democrat whose district includes the Quad Cities Exelon generator in Cordova, pleaded for approval to spare the community economic devastation. But Mokena Republican Margo McDermed warned that lawmakers were being frightened by "the bogey man of rate hikes."
"Competition in the Illinois energy field is very strong and we've benefited from low rates," McDermed said. "Why don't we think we're going to have the same in the future? Why are we in the business of picking winners and losers?"
___
The bill is SB2814 .
___
Contact Political Writer John O'Connor at https://twitter.com/apoconnor. His work can be found at http://bigstory.ap.org/content/john-oconnor.