Illinois police share 'ridiculous' driver's triple-digit speeding ticket on snowy road as warning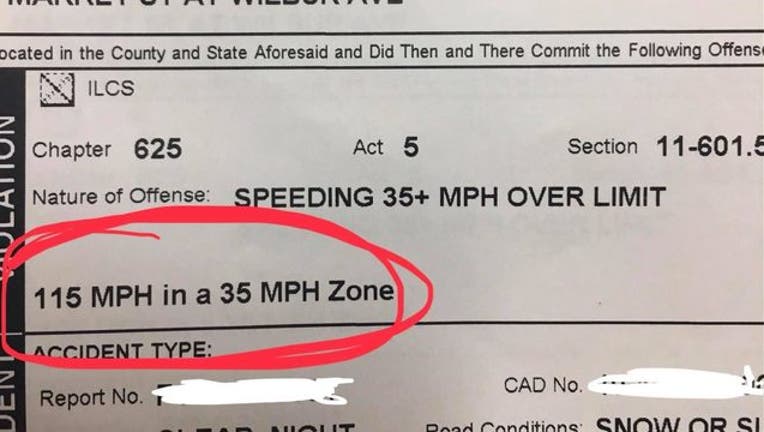 FOX NEWS - A driver caught going 80 miles per hour over the speed limit on a slushy Illinois road was not only pulled over and arrested Sunday night — she was publicly scolded by the Illinois State Police for the "ridiculous" act.
Illinois State Police slammed the careless driver in a Facebook post on Monday morning, warning others on snowy streets to drive carefully and watch out for others who are not following the rules of the road.
"If you think we don't patrol in town, you're mistaken. And if you think you won't get in a bad crash in town because the speed limits are low and you're a good driver, think again. Just remember there are people like this driving next to you," police advised in the post, which has since been shared nearly 2,000 times.
The police shared a snap of the woman's speeding ticket, which revealed she was traveling 115 miles per hour in a 35 mile-per-hour zone. The woman, who has not yet been identified by state police, was pulled over on Market Street in Champaign, according to WMAQ-TV.
Hundreds of people commented on the post, thanking the police for sharing the important reminder.
"Thanks for posting so I can show my hard headed 16 y.o son who thinks it's cool to drive 30 mph in 25 mph zone. It's the speed LIMIT, not suggestion. I've made him get out and walk several times. MOMMA 👏🏽DON'T 👏🏽PLAY!!!" one mother commented.
"She's lucky to have been stopped before something terrible happened. You most likely saved her life last night," another woman added.
"This is crazy, always worries me how other people drive, they don't realize they aren't just putting themselves in danger but also others," a third Facebook user replied.
State police didn't release the charges but confirmed the woman was arrested and jailed on Sunday.
"#ThatsGoToJailSpeed," the police added.