Renowned Jazz pianist Ramsey Lewis dies in Chicago at 87
CHICAGO - Legendary Chicago Jazz pianist and composer Ramsey Lewis has passed away at the age of 87. He died Monday morning.
Lewis was born in 1935 in Chicago and rose all the way to the top of the music world by the mid-1960s. He was remembered Monday night at Andy's Jazz Club, where the headlining band, The Trumpet Summit, dedicated its performance to Lewis.
"When I was in high school, I was privileged to be a part of the Ravinia Jazz Scholars Program, and he was over that program," said Ryan Nyther, a member of the Trumpet Summit. "So just him being in Chicago and him being over that program touched me in a way that I probably wouldn't be here today if he wasn't in Chicago."
SUBSCRIBE TO FOX 32 ON YOUTUBE
Lewis was a three-time Grammy Award winner and one of the great Jazz pianists to ever live. His hit song "The In-Crowd" nearly topped the pop charts in 1965, and paved the way for an iconic career. Lewis performed as a solo artist, as part of his legendary trio, and he also became a beloved radio personality on WNUA.
He also became a staple at Ravinia Festival, where he was named Jazz Artistic Director in the mid-1990s and founded the Ravinia Jazz Mentor and Scholars Program, which has paved the way for many CPS students, like Nyther, to rise in the world of jazz.
"He was someone who innovated his music every decade, someone who created a love for Jazz music among all the Ravinia patrons and someone who created music education for those who could least afford music education," said Christine Taylor Conda, Director of Reach*Teach*Play Education Programs at Ravinia.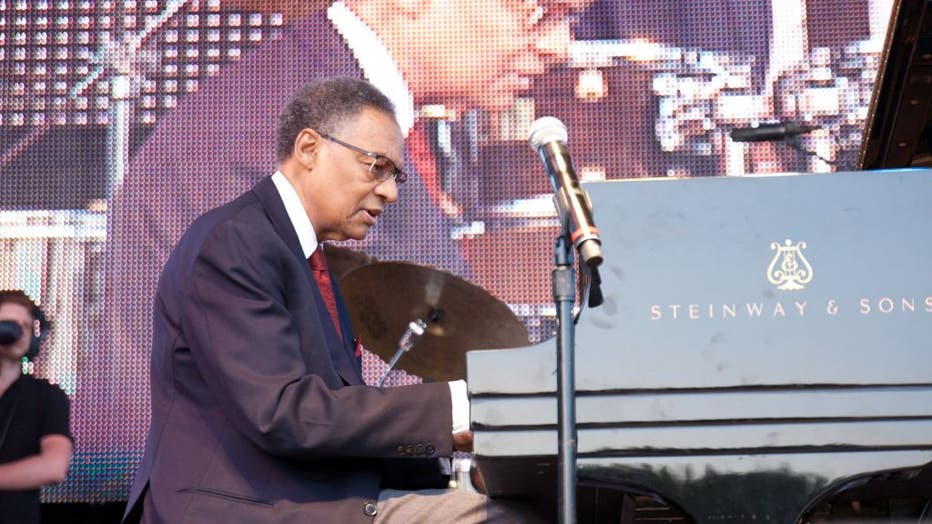 LONG BEACH, CA - AUGUST 13: (Photo by Earl Gibson III/Getty Images)
A post on the Ramsey Lewis Facebook page said the 87-year-old died Monday morning "peacefully" at his home in Chicago. The post said in lieu of flowers, his fans can make a donation to the Jazz Foundation of America.
Lewis first took piano lessons at age 4. He spent his early days in Chicago using his gospel and classical roots to create his own jazz style in the many neighborhood venues that hired young jazz musicians.
"It gave us a lot of opportunity to try our ideas and learn what it means to perform in front of an audience," Lewis said as he was named National Endowment for the Arts Jazz Master in 2007. He accepted the award from his mentor and fellow Jazz Master, pianist Billy Taylor.
During his career, Lewis performed with musical stars such as Aretha Franklin, Tony Bennett, Al Jarreau and Pat Metheney. Lewis had more than 80 albums to his credit — three dozen of them with Chicago-based Chess Records. He toured around the world and performed at the 1995 state dinner that then-President Bill Clinton hosted for President Fernando Henrique Cardoso of Brazil.
"I believe that my father — his love for the piano and his passion for the piano and how he coveted this love and how he protected it — that gave him longevity," Bobby Lewis said. "He recognized the gift God had given him."
In addition to his wife and son, Lewis also is survived by daughters Denise Jeffries and Dawn Allain; two other sons Kendall Kelly Lewis and Frayne Lewis; and a number of grandchildren and great-grandchildren.
Associated Press contributed to this report.