JFK's nephew says Emanuel has plan to force black people out of Chicago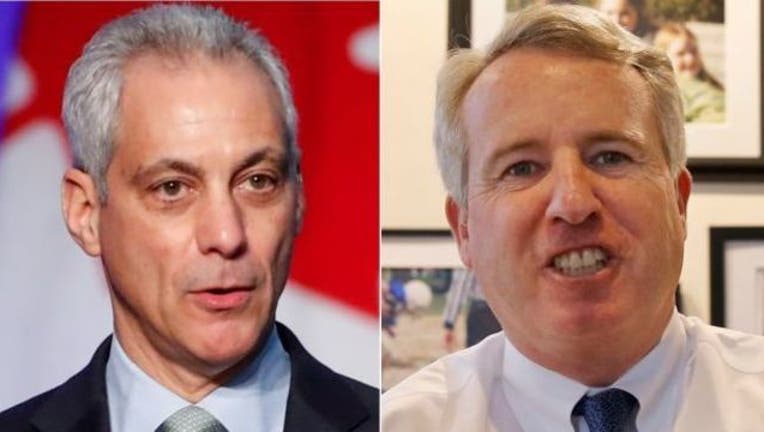 article
(FoxNews.com) - In a war of words between heavyweight names in the national Democratic establishment, a Kennedy running for governor has slammed Chicago Mayor Rahm Emanuel for his alleged complicity in a gentrification plan that critics say is forcing African-Americans and other minorities out of the country's third-largest city.
"I believe that black people are being pushed out of Chicago intentionally by a strategy that involves disinvestment in communities being implemented by the city administration," said Chris Kennedy, who is running for the Democratic gubernatorial nomination ahead of a March 20 primary. "I believe Rahm Emanuel is the head of the city administration and therefore needs to be held responsible for those outcomes," Kennedy said, according to the Chicago Tribune.
"This is involuntary. That we're cutting off funding for schools, cutting off funding for police, allowing people to be forced to live in food deserts, closing hospitals, closing access to mental health facilities. What choice do people have but to move, to leave?" Kennedy was quoted as saying. "And I think that's part of a strategic gentrification plan being implemented by the city of Chicago to push people of color out of the city. The city is becoming smaller, and as it becomes smaller, it's become whiter."
Kennedy, the son of late U.S. Sen. Robert Kennedy and nephew of President John F. Kennedy, is hoping to appeal to African-American voters in a primary challenge against Chicago businessman J.B. Pritzker. The Kennedy name still carries resonance among older African-American voters in Chicago due to the role the Massachusetts political family played in the Civil Rights movement of the 1960s.
Kennedy, who moved to Illinois after graduating college in 1986, is the head of the family investment firm, Joseph P. Kennedy Enterprises, and is a member of the mutual fund board of trustees for Chicago-based Ariel Investments. While this is Kennedy's first run at elected office, he worked on his uncle U.S. Sen. Ted Kennedy's bid for the 1980 Democratic Party's nomination for president, and hosted a fundraiser for Barack Obama during his bid for the U.S. Senate in 2004.
The Obama Foundation did not respond to Fox News's request for comment. 
Emanuel's office responded to Kennedy's criticism by associating him with two Republican politicians who have little support in the Democratic stronghold of Chicago: President Donald Trump and Illinois Gov. Bruce Rauner.
"It's sad to see Chris Kennedy joining President Trump and Gov. Rauner in using cynical, politically motivated attacks about Chicago's communities for his own personal gain," Emanuel spokesman Matt McGrath said in a statement. "His divisive comments today are a direct assault on one of this city's greatest strengths — our diversity."
Emanuel, the one-time White House chief of staff to former President Barack Obama, came into office in 2011 amid high hopes. But his tenure as mayor has been plagued by a series of scandals, and a soaring homicide rate. While Emanuel's approval rating has improved recently – hovering around 50 percent – he has become a frequent target of President Trump's critiques of "inner city" crime.
The attacks from Trump are expected, but such harsh criticism by Kennedy was not expected. According to McGrath, Kennedy has "ignored work being done in neighborhoods across the city" to "improve the quality of life for everyone who calls Chicago home."
In a statement to the Tribune, Chicago Police Superintendent Eddie Johnson said Kennedy was out of touch with the city's efforts to reduce violent crime.
"I've never heard from Chris Kennedy. I've never even met him. He's never visited a police station or asked me or my team for any kind of briefing on what we are doing in Chicago to address the gang violence and ongoing infusion of illegal guns on our streets," Johnson said. "I'm not a politician, but I do take issue with the hard work our men and women are doing to beat back this violence is used to score political points."
Despite the Kennedy name, the candidate has struggled to raise campaign funds, and lacks the backing of the state's Democratic establishment. Despite this, he has recently ramped up his criticisms of fellow Democrats besides Emanuel. He called for the ouster of Cook County Assessor Joe Berrios, the county's Democratic chairman, after an investigation found that his office's assessments had so many errors and favored owners of expensive commercial properties.
More on FoxNews.com.