Judge: US women's soccer team has no right to strike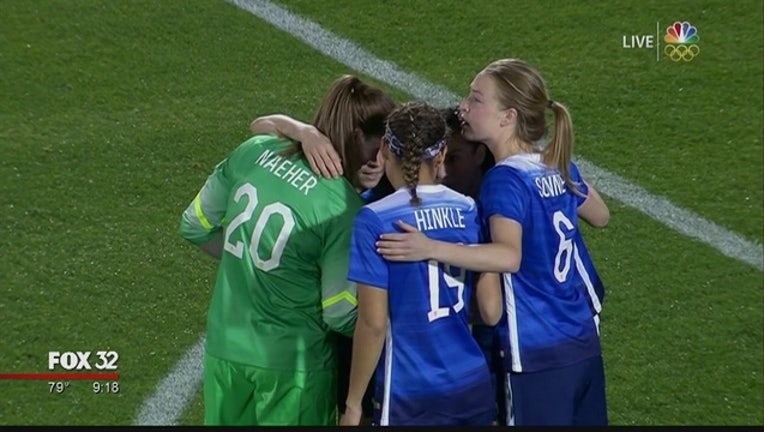 article
CHICAGO (AP) - A federal judge ruled the world champion U.S. women's soccer team does not have the right to strike to seek improved conditions and wages before the Summer Olympics, seeming to end the prospect of an unprecedented disruption by one of the most successful American national teams.
The case pits the U.S. Women's National Soccer Team Players Association against the U.S. Soccer Federation, which sued in February to clarify the strike issue. U.S. District Judge Sharon Johnson Coleman ruled Friday the team remains bound by a no-strike provision from its 2005-12 collective bargaining agreement.
The federation warned a strike could have forced the women's team, which is seeking its fourth straight Olympic gold medal in Brazil, to withdraw from the Games and said that would have damaged American soccer as a whole.
The union wanted the option of striking, though it hadn't said definitively that it would.
The lawsuit focused on strike rights is related to a complaint filed by five players in March with the federal Equal Employment Opportunity Commission that alleges wage discrimination by the federation. Friday's ruling does not directly impact that complaint.
U.S. stars Hope Solo, Alex Morgan, Carli Lloyd, Becky Sauerbrunn and Megan Rapinoe say they are paid far less than their counterparts on the men's national team. U.S. Soccer says that claim is misleading, partly because the men and women are paid differently under separate collective bargaining agreements.
During oral arguments before Coleman last week, the federation said its collective bargaining agreement remains in effect until Dec. 31, while the union says any such agreement has expired.
The union didn't immediately address whether it would appeal Coleman's decision, but in a statement to The Associated Press, the union's executive director, Richard Nichols, said the ruling didn't affect wider grievances.
"To be clear, the court's ruling today does not negate the fact that U.S. Soccer does not fairly compensate the women's national team, or in any way impact the players' demands for equal pay for equal work," he said.
In her 13-page opinion, Coleman said the union didn't convince her terms of the 2005-12 collective bargaining agreement — including a no-strike clause — did not carry over when the sides signed a memorandum of understanding in March 2013 modifying the previous deal with terms through 2016. Coleman was dismissive of union arguments that a no-strike provision should have been spelled out explicitly in the memorandum.
"Federal law encourages courts to be liberal in their recognition and interpretation of collective bargaining agreements, so as to lessen strife and encourage congenial relations between unions and companies," she wrote. "A collective bargaining agreement may be partly or wholly oral and a written collective bargaining agreement may be orally modified."
U.S. Soccer issued a brief statement saying officials were "pleased with the court's decision and remain committed to negotiating a new CBA to take effect at the beginning of next year."
The sides have continued to meet in a bid to agree to a new labor contract. If a new agreement is not reached by Dec. 31, the players would then have a clear right to give notice of a strike.
Federation lawyer Russell Sauer Jr. said during oral arguments that a no-strike clause is implied in the still-valid memorandum of understanding. A lawyer for the union balked, saying the federation failed to secure a no-strike provision in writing and cannot argue now that such a provision is implied.
Asked by the judge why the federation did not insist on a no-strike clause in the memorandum, federation lawyer Amy Quartarolo said it was made clear in emails and other communications that a no-strike provision in previous CBAs carried over into the 2013 agreement. In her ruling, Coleman largely agreed with that contention.
The U.S., which won the 2015 World Cup with a 5-2 victory over Japan, opens the defense of its Olympic title on Aug. 3 against New Zealand in Belo Horizonte.
Many players have voiced concern over gender equity in soccer. Some pointed to the comparatively hard artificial turf the women had to play on in Canada while the men's World Cup has always been played on grass.
Before the World Cup, a number of players protested over the artificial turf, with Abby Wambach leading a group that filed a complaint in a Canadian court.
___
Peterson reported from Portland, Oregon.
___
Follow Michael Tarm on Twitter at http://twitter.com/mtarm