Jurors deliberate in big, complex Chicago street-gang trial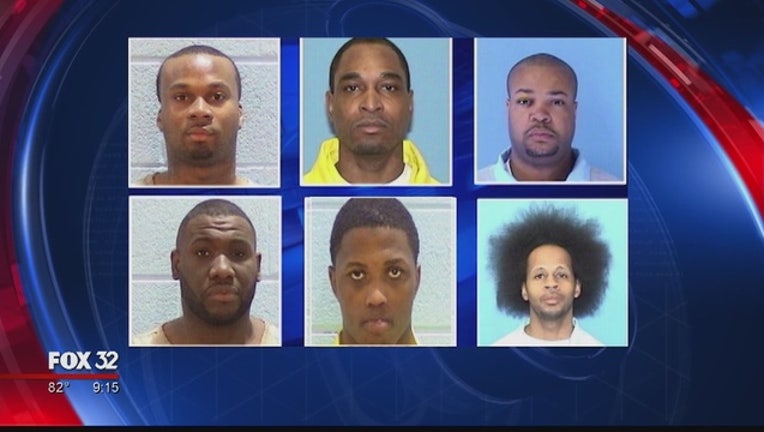 article
CHICAGO (AP) - Jurors who deliberated Thursday for their first full day at the biggest street-gang trial in recent Chicago history head into the holidays facing the daunting task of sorting through months of evidence in a complex racketeering case against purported leaders of the South Side Hobos, with signs already of some dissention among the 12 panelists.
One juror sent a note to the presiding federal judge at the end of the day Thursday, expressing frustration and asking if he could be dismissed from the jury.
"For me to sit here for a week or more ... is a waste of my time," he told Judge John Tharp in court later. The juror, referred to only as Juror No. 49, didn't specify if he is leaning toward conviction or acquittal, but he did appear to signal that he had already made up his mind.
To convict, it will not be enough for jurors to conclude the Hobos killed one government witness in front of his terrified stepchildren, robbed then-NBA player Bobby Simmons of his $200,000 diamond chain at gunpoint or committed multiple other crimes. They must find the six defendants coordinated their crimes within an organized criminal enterprise and shared their illicit profits.
Deliberations in the trial, which is drawing to a close in a year when homicides spiked in the city, follow three months of testimony and four days of closing arguments in federal court in Chicago. Jurors were expected to take Friday through Monday off and resume deliberations Tuesday. Judge Tharp said Thursday night he would decide Tuesday morning whether to replace Juror No. 49 with an alternate.
After sitting through four seven-hour days of testimony per week for months, jurors might not begin discussing the evidence in earnest until after Christmas, said Jeff Cramer, a former federal prosecutor in Chicago who's not involved in the case.
"The evidence has been weighty and disturbing," he said. "They may need time to decompress."
Alleged Hobos boss Gregory "Bowlegs" Chester, alleged Hobos hit man Paris Poe and four alleged cohorts are charged with racketeering conspiracy, including nine killings. If jurors enter guilty verdicts on racketeering conspiracy and decide the conspiracy included murders, they could go to prison for life.
But during his closing this week, Chester's lawyer likened law enforcement to an archer who first shoots an arrow and then draws a target around wherever it lands.
"It was always a fix," Beau Brindley said. "It was always a fraud."
When Chester surprised courtroom observers by choosing to testify, he almost immediately addressed the issue of coordinated crimes. The 39-year-old promptly conceded he sold heroin, but asserted it was a one-man operation and that his co-defendants had nothing to do with his crimes and he had nothing to do with theirs. He also repeatedly insisted that the Hobos gang didn't even exist, despite his full-arm tattoo that read, "Hobo: The Earth is Our Turf."
The most chilling testimony involved the allegation that Poe, at Chester's urging, killed gang associate-turned-informant Keith Daniels in 2013 days after Chester's arrest and after Daniels testified to a grand jury. Prosecutors say Poe shot Daniels over and over at close range as the man's 4-year-old stepdaughter and 6-year-old stepson looked on.
Daniels' girlfriend, Shanice Peatry, witnessed the shooting and testified that she immediately recognized Poe, though the defense questioned how she could have been so sure since the attacker wore a mask. Poe's dreadlocks and a distinctive limp convinced her she identified him correctly, she said. Poe's lawyer had him walk in front of the jury to demonstrate that Poe doesn't limp.
In a video statement played to jurors, the boy described someone suddenly appearing and shooting through the family-car windows. He added, "I was covering my ears because the gunshots were too loud."
Prosecutor Derek Owens told jurors during his closing argument that the killing of Daniels and others was meant as a message from the Hobos that, "You don't snitch on the Hobos and think you'll get away with it."