Jury selection begins in Peterson murder-for-hire trial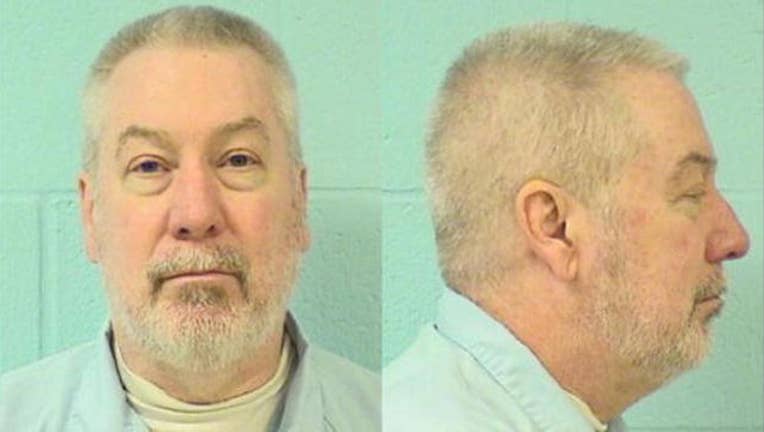 article
ST. LOUIS (AP) - Jury selection started Friday in the murder-for-hire trial of Drew Peterson, the former suburban Chicago police officer accused of plotting to kill the prosecutor who put him behind bars in his third wife's death.
Peterson, 62, is serving a 38-year-sentence at the maximum-security Menard Correctional Center in southern Illinois. Opening statements are scheduled to start Monday, with the trial anticipated to last at least one week.
The Illinois Attorney General's Office and the Randolph County state's attorney are prosecuting the case against Peterson, who faces a sentence of up to 60 years if convicted of both solicitation of murder for hire along with solicitation of murder.
Peterson has pleaded not guilty to allegations that he enlisted another inmate between September 2013 and December 2014 to help plan the death of Will County State's Attorney James Glasgow, who is among the state's likely witnesses. Glasgow has previously declined to discuss the alleged threats.
The crux of the state's case is expected to consist of wiretapped conversations between Peterson and a confidential informant. Prosecutors have not identified a prospective hit man.
A public defender representing Peterson unsuccessfully sought to bar the secretly recorded conversations, arguing that the Will County judge who authorized the wiretap improperly met with the jailed informant, whose name was inadvertently disclosed during pretrial proceedings.
Even as he faces additional time in prison, Peterson is appealing his 2012 murder conviction to the Illinois Supreme Court.
A state appeals court ruled in November that evidence against Peterson was sufficient to show he killed Kathleen Savio, whose body was found in the bathtub of her suburban Chicago home in 2004. No date has been given for arguments.
Glasgow reopened the investigation into Savio's death after the 2007 disappearance of Stacy Peterson, the ex-Bolingbrook sergeant's 23-year-old fourth wife. Peterson, who remains a suspect in that case, has maintained his innocence. His defense attorneys previously contended that Stacy Peterson had left for another man and was alive. Peterson divorced Savio a year before her death.
It's not clear whether Peterson, who opted to not take the stand in his murder trial, will testify this time. Randolph County State's Attorney Jeremy Walker said the witness list has been placed under seal.
Should he testify, prosecutors will be able to question Peterson about his murder conviction, Circuit Judge Richard Brown has ruled. But they won't be able to discuss a 2003 attempt by Peterson to pay $25,000 to someone whom he asked to "take care of" Savio.
The judge has also granted a defense request to allow discussion at trial about the details of the confidential informant's own criminal history.