Lawsuit: Speedway where gas leak caused explosion should stay closed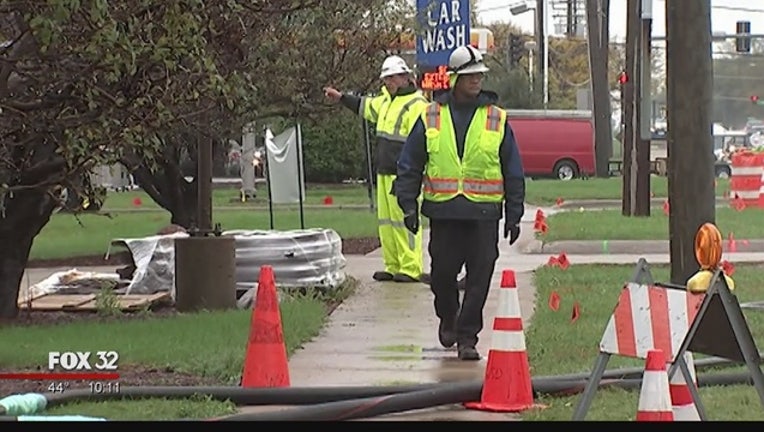 article
SUN-TIMES MEDIA WIRE - A lawsuit seeks to keep a west suburban Speedway station closed until it completely cleans air and sewer contamination from a gasoline leak that led to explosions and fires at homes and condos last month in Willowbrook.
Attorney General Lisa Madigan and DuPage County State's Attorney Robert Berlin on Friday filed a lawsuit against Speedway LLC, which owned the station at 6241 S. Cass Ave. in Westmont, where the leak occurred, according to the AG's office.
The gasoline spread through the sewer system to Willowbrook, where the first explosion happened about 9 a.m. Friday, Oct. 20. in the Knoll Condominiums in the 6100 block of Knollwood Road, according to Willowbrook police. An 81-year-old woman was hospitalized with burns, and another injured person was treated at the scene.
A second fire and two more explosions were reported a few blocks away in the same subdivision, where a dog was rescued but no injuries were reported. By Saturday, Oct. 21, firefighters had responded to more than 100 reports of noxious odors and at least 10 flashes and/or explosions and fires — mostly in residential buildings along 63rd Street between Cass and Route 83.
In all, 150 condo units were evacuated along with six other homes; and a total of three people were injured, according to the AG's office. Pressure from gasoline vapors also caused 14 manhole covers to be blown off.
Madigan and Berlin filed a complaint and motion for an immediate preliminary injunction in DuPage County Circuit Court. It asks the court "to require that Speedway remain closed, perform air monitoring at any affected homes in and around the sanitary sewer system, and investigate and address any contamination from the gasoline release."
The station had six underground storage tanks, four of which are 10,000-gallon gasoline tanks located adjacent to the Flagg Creek Sanitary District sewer system.
The Illinois EPA had referred the case to the Attorney General's Office for prosecution, claiming Speedway officials knew of the leak up to four days before the first explosion, but they did not report it.
Authorities in the area received more than 10 reports of "noxious odors" starting about 2 p.m. Oct. 19 . The first explosion happened about 9 a.m. Oct. 20
The explosions "caused significant damage and disruption to people in the community," Madigan said in a statement. "Today's complaint and injunction requires Speedway to remain closed until it can assure the state that it has cleaned up, determined and remedied the causes, and can ensure the safety of its operations."
Gasoline can "migrate through soil and sewer systems into basements, crawl space cracks and pipes to create inhalation and explosion hazards," the AG said. "Officials believe the Knoll Condominiums explosion was the result of gasoline vapors being ignited by a laundry dryer. Residents of 12 units are still under evacuation orders that could last for months."
Speedway has since emptied the leaking tank and removed all the underground tanks. The complaint also wants Speedway to "ccontrol any gasoline released at the site and to continue working to evaluate and remediate any soil or groundwater contamination."
The lawsuit also asks for civil penalties.