LeBron's 33 points lead Cavaliers past Bulls 106-91 in Game 2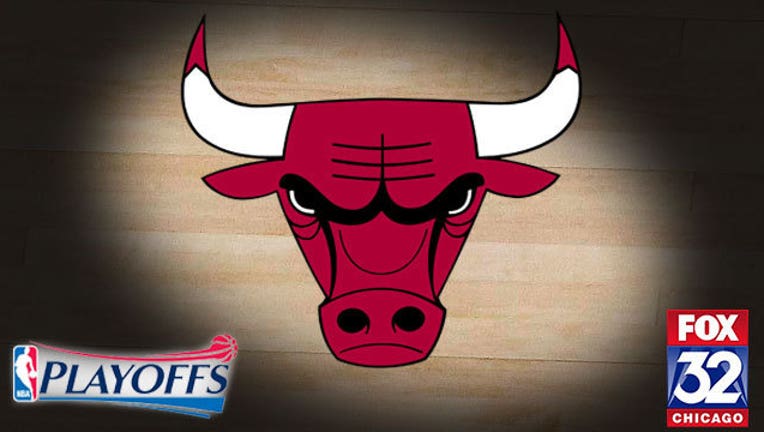 article
CLEVELAND (AP) - The headband returned. The aggressiveness, dunks and dazzling plays all came back, too.

LeBron James wasn't going to have a second sub-par game.
James attacked from the start and scored 33 points, Kyrie Irving added 21 and the Cleveland Cavaliers evened their semifinal series with Chicago, beating the Bulls 106-91 in Game 2 on Wednesday night.
Donning the signature headband he ditched in March, James played like a man possessed. He powered to the basket, leaving Bulls defenders in his wake and keeping the Cavs, missing two starters, from falling into a 2-0 hole. He added eight rebounds and five assists for Cleveland, which led by 25 in the third quarter and withstood a third-quarter charge by the Bulls.
James said the choice to wear the headband was spur of the moment.
"It was in my locker and I decided to give it a go," he said. "It was time for it to make a comeback."
The Cavs made one, too.
For the second straight game, they were without forward Kevin Love (shoulder surgery) and J.R. Smith (two-game suspension), but they had James and he was more like himself after an "off" opener.
"We're a little banged up, we're short-handed, so I have to be aggressive," James said. "Even more aggressive than my usual self, and I was happy I was able to make a couple of plays to help our team win tonight."
Jimmy Butler scored 18 and Derrick Rose had 14 points and 10 assists for the Bulls, who host Game 3 on Friday night. Pau Gasol added 11 points - 10 fewer than Game 1, when he destroyed the Cavs on uncontested jumpers.
Iman Shumpert added 15 points, James Jones made five 3-pointers and Tristan Thompson added 12 rebounds for Cleveland. Thompson started at power forward in Love's spot, allowing James to move back to small forward. On the perimeter is where James is most dangerous and he made it clear from the outset that he wasn't going to stand around and wait for the game to come to him.
At Irving's urging, James was "ultra-aggressive."
"There wasn't one possession where he wasn't dominant," Irving said. "When he has that mindset, he's the greatest player playing our game right now."
The Cavs burst to a 13-2 lead, led by 22 in the first quarter and never looked back.
"They smashed us," Bulls coach Tom Thibodeau said.
James arrived at Quicken Loans Arena at around 4 p.m., three hours before tip-off. As if there needed to be another sign of the game's importance to Cleveland this was it, as the superstar typically gets to the arena for a home game around 90 minutes before the start.
"Maybe he wanted to beat the traffic," quipped Cavs coach David Blatt. "Knowing him, it was something else."
It sure was.
Along with his old look, James seemed all-business from the time he took the floor for warmups. He scored 14 in the first quarter and got to the free-throw line five times, three more than in Monday's loss. James, who went just 9 of 22 from the field in Game 1, set the tone and his teammates followed.
"For the leader of the team, that's what you're supposed to do," Rose said. "Everybody on the team followed right behind him."
Love visited his teammates in the locker room before the game, and he joined them on the bench in the second quarter. Moments after Love, wearing a sling on his left arm, waved to the crowd, James delivered one of those plays only he can make. He burst down the left side of the lane and delivered a right-handed dunk over Butler, who did a marvelous job defending the four-time league MVP in Game 1.
But this wasn't the same James or the same Cavs.
"Our back was against the wall," James said. "We couldn't go down 2-0."
TIP-INS
Bulls: Not everyone was thrilled with James' fashion choice. "I don't care about no headband," Butler said. "He's a great player, headband or not." ... The Bulls are now 21-8 this season with their "A'' lineup: Rose, Gasol, Butler, Joakim Noah and Mike Dunleavy.
Cavaliers: Reserve G Matthew Dellavedova added nine points and nine assists. ... Smith will return for Game 3, but the way Shumpert is playing, there's no guarantee he'll have his starting job back. ... James (1,059) moved into a tie with Tony Parker on the career postseason assists list. He's two away from catching Steve Nash (1,061).
SHUMPERT'S INJURY
Shumpert left in the third quarter with a strained left groin that could be serious. After riding a stationary bike, he returned to the floor but Blatt indicated the injury could limit him.
"Time for one of those miracle-48-hour recoveries," Blatt said. "That's what we're hoping for."
ROSE'S DROUGHT
Rose has not attempted a free throw in three straight playoff games, dating to Game 6 against Milwaukee. He didn't have any excuses.
"If they're not calling it, they're not calling it," he said. "I can't worry about that."
Thibodeau was careful not to criticize the officiating when asked what Rose needs to do to get to the line.
"I guess he's got to go harder, I don't know," he said. "It looked like there was a lot of contact to me. Others didn't see it that way."
Copyright 2015 The Associated Press. All rights reserved. This material may not be published, broadcast, rewritten or redistributed.