Man charged in fatal shooting in South Shore
CHICAGO - A 19-year-old man was charged with murder in connection to a fatal shooting Sunday in the South Shore neighborhood.
Daveon Houston was arrested Tuesday after he was identified as the person who shot and killed a 20-year-old man in the 7800 block of South Clyde Avenue, Chicago police said.
Pete Lee Jackson Jr., was shot in the head inside of a vehicle around 2:45 p.m. on Sept. 5, Chicago police and the Cook County medical examiner's office said.
Jackson, who lived in Hammond, Indiana, was pronounced dead at the scene, according to the medical examiner's office.
Surveillance cameras recorded Houston when he left his apartment Sunday afternoon in the 7800 block of South Clyde Avenue to meet with Jackson in a nearby alley, Cook County prosecutors said.
Surveillance cameras nearby recorded, Jackson opening a bag he was carrying and Houston reaching inside and taking out a gun that he placed in his waistband, prosecutors said.
Jackson opened the bag again and reached in before taking out a firearm magazine and a white box that contained ammunition for the gun, prosecutors said. Authorities were able to conclude the white box had ammunition inside based on text messages the men exchanged, prosecutors said.
The two men eventually walked back to Jackson's red Ford Focus that was parked near Houston's apartment. Jackson got into the front seat and Houston got into a rear passenger seat, prosecutors said.
Surveillance video, though grainy, showed Houston lifting his hand up behind Jackson's head inside the car while other surveillance cameras recorded audio of two gunshots, prosecutors said. Jackson's head then is seen on video going limp and his body slumped over inside the car, prosecutors said.
Afterward, Houston went to the driver's seat and appeared to search Jackson's body before running back to his apartment, prosecutors said.
Chicago police officers found Jackson shot twice in the head and pronounced him dead at the scene, officials said. Two 9-mm shell casings were recovered.
After obtaining a search warrant for Houston's apartment, investigators found a 9-mm handgun inside that matched the bullet casings found near Jackson's body, as well as a .40-caliber handgun, prosecutors said.
While in custody, Houston identified himself in photos taken from the surveillance recordings and admitted to buying and taking the gun from Jackson, which he said he planned to pay for via Apple Pay, prosecutors said.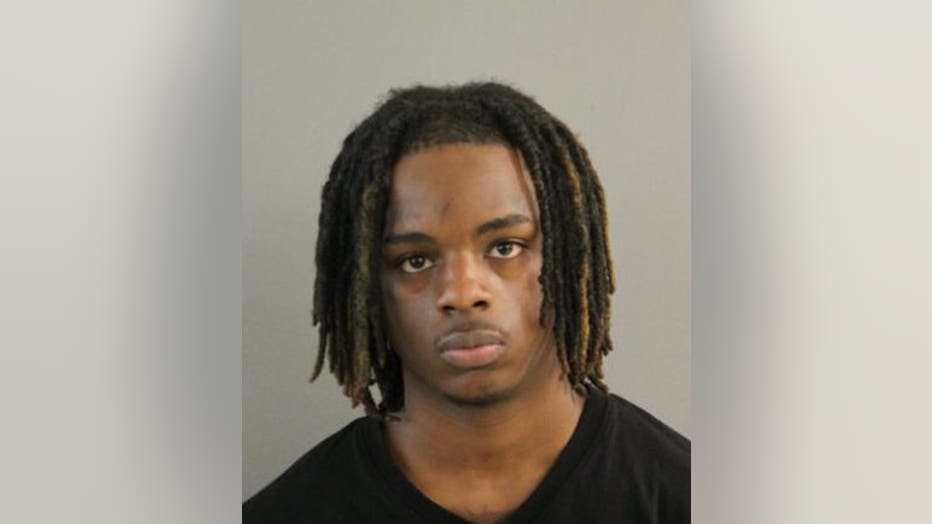 Daveon Houston | Chicago police
Houston told detectives his phone was having problems sending the money and he gave the gun back to Jackson, who started to load it, prosecutors said. Believing Jackson was going to rob him, Houston allegedly said he grabbed the gun, causing it to fire and strike Jackson.
Houston was charged with one count of first-degree murder and two counts of aggravated unlawful use of a weapon, police said.
Houston has been working for a landscaping company owned by a relative to support his son, an assistant public defender said.
He is expected back in court Sept. 28.
Jackson was one of six people killed in gun violence in Chicago over the Labor Day holiday weekend. At least 61 others were wounded.
Sun-Times Media Wire contributed to this report.