Man had sexual relationship with 12-year-old niece, wanted to marry her, officials say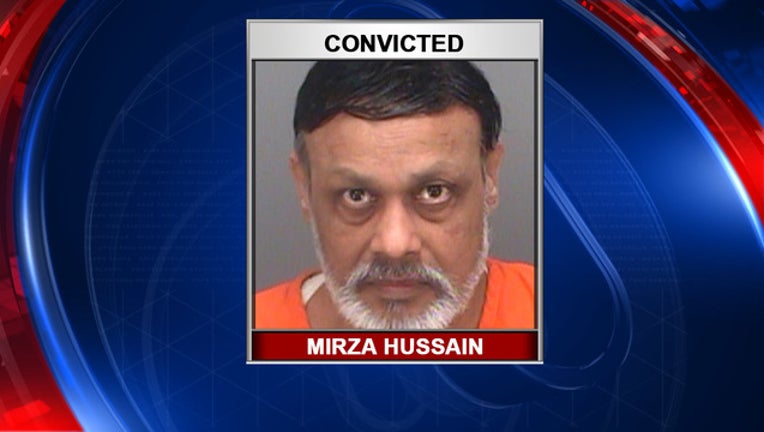 article
BRANDON, Fla. (FOX 13) - A Brandon man who, officials say, developed a romantic and sexual relationship with his niece was sentenced to 37 years in prison. He also traveled as far as Bangladesh to change her birthdate.
A federal jury in Tampa found 56-year-old Mirza Afzal Hussain guilty for aggravated identity theft, document fraud and enticing a minor – his 12-year-old niece. 
In 2010, Hussain's sister and her family, including two young daughters, legally immigrated to the U.S. from Bangladesh and stayed at his home. Federal officials said the family was "culturally and socially isolated, did not have employment, lacked transportation, and spoke very little English."
During their stay at Hussain's home, investigators said he developed an interest in his 12-year-old niece. He bought her tight-fitted clothing, jewelry, and cell phones. They said he sexually battered her and treated her as his own spouse in front of her family, and his wife, who later left him.
In early 2012, Hussain's sister and family, including her daughters, moved out. After, investigators said Hussain sent his niece sexually explicit text messages and professed his love for her. He also said he wanted to marry her, discussed sex and solicited naked photos of her, according to court documents.
Investigators said he also convinced her to falsify reports to claim that her parents were abusing her. 
By November 2012, Hussain traveled to Bangladesh and obtained a fake birth certificate to change his niece's birthdate to make her appear to be three years older. When he returned to the U.S., he used the birth certificate to obtain a Legal Permanent Resident Card reflecting the new birthdate.
Investigators said he showed up to his niece's home and tried to take her away from her parents. Hussain showed the new resident card as "proof" she was an adult. 
"This criminal put his own agenda first, hurting his own family. He thought he could get away with his despicable behavior by lying and blaming others for his actions," said HSI Tampa Special Agent in Charge James C. Spero. "Thanks to our HSI special agents and law enforcement partners, a jury of his peers found him guilty and he will now be unable to harm anymore. His family can feel safe knowing justice has been served."   
Officials said the case was brought on as part of Project Safe Childhood, a nationwide initiative to combat child sexual exploitation and abuse. For more information about Project Safe Childhood, visit www.justice.gov/psc.