Man killed, 1 wounded in Pilsen drive-by shooting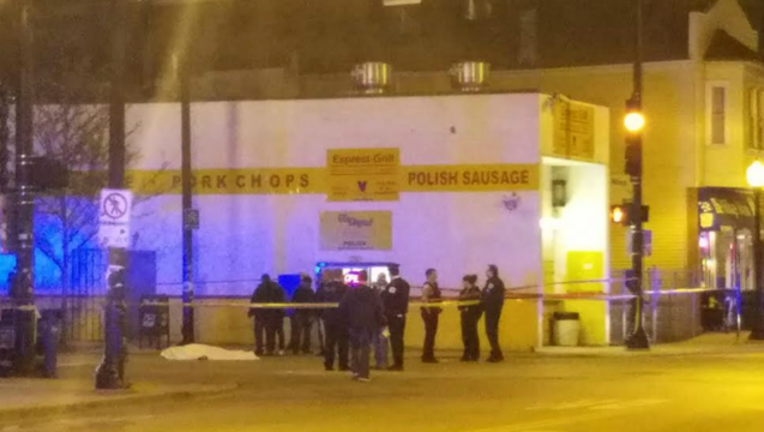 article
CHICAGO (SUN TIMES MEDIA WIRE) - A man was killed and another man was wounded in a drive-by shooting late Tuesday in the South Side Pilsen neighborhood.
The men, ages 43 and 35, were standing on the sidewalk near South Halsted and West 18th streets when a male fired shots from a silver-colored SUV about 11:40 p.m., according to Chicago Police.
The 43-year-old, identified as Jesus Juarez, was shot in the chest and pronounced dead at the scene at 12 a.m., according to police and the Cook County medical examiner's office. He lived in the 5400 block of South Luna.
His body could be seen lying on the sidewalk covered with a white sheet close to the 18th Street crosswalk at Halsted, outside the Express Grill Polish sausage stand.
The 35-year-old was shot in the left knee and taken to Stroger Hospital, where his condition was stabilized, police said.
Tomislav Lazarevski, 24, whose father owns Express Grill, said he and another employee were inside the 24-hour, walk-up restaurant at the time of the shooting.
He said the victims were in a small group that approached the window, but before they could order, the men started looking around.
"That's when shots were fired," Lazarevski said, adding that he heard five or six gunshots come from a passing vehicle.
He said the restaurant's three surveillance cameras "got the whole thing."
Tomislav Lazarevski's father, Aco Lazarevski, said he had just gone to sleep at his north suburban Lincolnwood home when his son called him and told him about the homicide.
"Thank goodness no one inside [the restaurant] was hurt," he said.
Aco Lazarevski, who has owned the Express Grill on Halsted for nearly five years, complained that the city's traffic camera may not have captured footage of the shooting.
"Every time something happens I've got to provide my tapes," he said. "What good is it for the city to even have cameras? It should be illegal to have false cameras."
Aco Lazarevski said he also owns an Express Grill in the 1200 block of South Union, where a 31-year-old man was shot and critically wounded about 2 a.m. March 27.
The man was arguing with another male, who went to his car, which was parked nearby, got a gun and opened fire, police said at the time. The 31-year-old suffered gunshot wounds to the abdomen, chest and left leg and was taken in critical condition to Stroger Hospital.
Aco Lazarevski said he also supplied surveillance video from that incident.
"I don't know how many times I've helped the police," he said.
Two men who were with the victims at the time of the shooting remained at the Halsted scene early Wednesday while police gathered evidence. While neighbors walked and rode their bikes past the yellow tape and curiously asked officers what happened, the men paced and cried — occasionally wailing as they spoke on the phone — in and around the crime scene.
One of the men asked Aco Lazarevski if he could charge his phone inside Express Grill.
Shortly thereafter, rain started to fall, forcing detectives to investigate while holding umbrellas.
Tomislav Lazarevski said he's never seen a homicide so close to the Halsted restaurant.
"You hear shootings occasionally, but they're usually blocks away," he said.
Aco Lazarevski said Express Grill doesn't have bulletproof glass.
"I'm thinking about getting it," he said.