Massachusetts police officer and bystander killed when suspect takes officer's gun and opens fire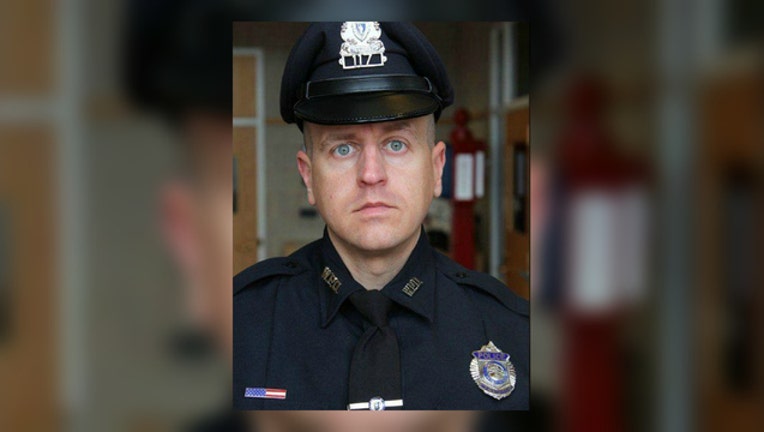 article
BOSTON (AP) - A Massachusetts police officer and bystander died Sunday from wounds sustained when a suspect allegedly took the officer's gun and fired following a vehicle crash and a foot chase.
Weymouth officer Michael Chesna was shot multiple times by his own firearm around 7:30 a.m. Sunday, and died from the injuries at South Shore Hospital, officials said.
An unidentified elderly woman also died after being hit by stray bullets in a nearby home, authorities said.
Weymouth Police Chief Richard Grimes said the shooting suspect, 20-year-old Emanuel Lopes, was in custody.
Weymouth is located approximately 16 miles (26 kilometers) south of Boston on what is known as the South Shore.
Police say the suspect crashed a car, fled the scene, and was later discovered by Chesna allegedly vandalizing a home. Prosecutors say that's when he attacked Chesna with a rock to the head. Chesna fell to the ground, and officials say, Lopes took the officer's gun and shot Chesna multiple times in the head and chest.
Lopes then fled and fired more shots during a chase. Police say one of those shots fatally struck the woman in her home.
Lopes suffered a leg wound while being arrested and is hospitalized at South Shore Hospital. He will be arraigned on two counts of homicide on Monday, at either his bedside or in court.
Massachusetts Gov. Charlie Baker said on Twitter that his thoughts were with the families of the officer and bystander.
"I am deeply saddened to learn of the passing of Officer Chesna and an innocent bystander today and my thoughts and prayers are with their families, loved ones and the @WeymouthPD after this tragic loss," Baker tweeted.
Grimes described Chesna as a 42-year-old Iraq and Afghanistan war veteran who leaves behind a wife and two children, ages 4 and 9. Chesna was from Weymouth and graduated in 1994 from Weymouth High School.
"I hired Mike Chesna six years ago tomorrow," Grimes said.
Grimes said he had spoken to Chesna's mother and she said her son joined the military "to open the doors to get in this job."
"He always had a kind word and a good attitude ... we very much appreciated his service to the Weymouth Police Department," said Grimes, describing the overnight shifts and traffic division duties Chesna held.
Chesna's body was removed from the hospital and transported via procession of multiple law enforcement agencies to the state's medical examiner office in Boston, where he will be evaluated. Dozens of police, some tight-lipped and others crying, somberly saluted the vehicle carrying the officer's body, and mourners placed bouquets by the Weymouth Police Headquarters, now draped in black bunting.
The Norfolk District Attorney's Office says it cannot release more information on the suspect's "past court involvement " prior to court Monday.
Law enforcement groups as close as the Boston Police Department and as far as Maine are taking to social media to express their sadness.
Massachusetts State Police Colonel Kerry Gilpin offered her condolences for the "horrific crimes," and said the State Police Crime Lab "will work tirelessly alongside District Attorney Morrissey and the Weymouth Police Department to speak for those two victims by holding the defendant accountable."
___
This story has been corrected to show that the suspect's first name is spelled Emanuel, not Emmanuel.