Members of death metal band 'Decapitated' arrested for kidnapping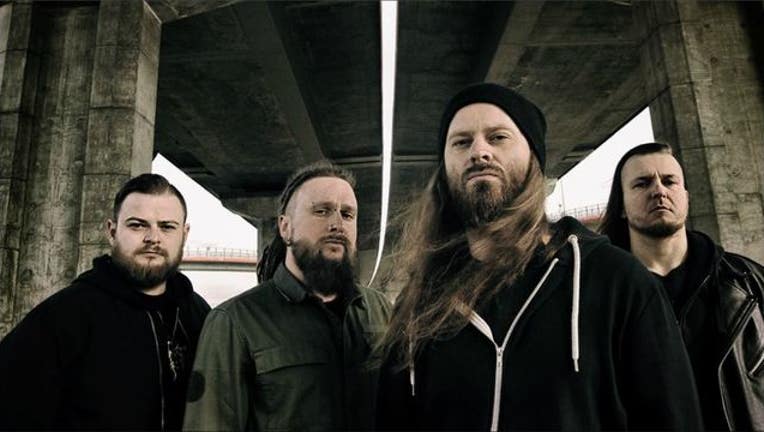 article
SPOKANE, Wash. (AP) -- The four members of a well-known Polish death metal band have been arrested on suspicion of kidnapping a woman after a concert last month in Washington state, authorities said.
 
The members of the band Decapitated were arrested early Saturday in Santa Ana, California, on suspicion of kidnapping a woman after their Aug. 31 concert in Spokane, Spokane Police Department spokeswoman Cpl. Teresa Fuller said in a statement.
 
The woman told police just before 2 a.m. on Sept. 1 about the alleged kidnapping by the band members, Fuller said. The band had performed at a concert in downtown Spokane.  The woman attended the heavy metal concert, Fuller said.
 
Band members were arrested by the Los Angeles County Sheriff's Office after their Friday night concert in Santa Ana, Fuller said. They are 27-year-old Michal M. Lysejko, 35-year-old Waclaw J. Kieltyka, 31-year-old Rafal T. Piotrowski, and 30-year-old Hubert E. Wiecek. All are Polish citizens.
 
"After they finished playing, they were kind of hanging out," Santa Ana police Sgt. Javier Aceves told the Orange County Register on Saturday. "There was nothing dramatic."
 
They are being held in the Los Angeles County Jail and will face extradition to Spokane, Fuller said.
 
Steve Graham, the band's Spokane-based defense attorney, told the Spokane Spokesman-Review that the band members are innocent of the accusations.
 
"There is another side to this," he told the newspaper. "We have witnesses that can testify to the fact that the accuser came to visit (the) band of her own free will and left on good terms."
 
Graham said he told police that the band members had offered to surrender but never heard anything back.
 
The attorney said he fears the band members will spend weeks in the Los Angeles County Jail before being returned to Spokane. But Graham told the newspaper that the four will not fight extradition and will return to Spokane willingly.
 
The band, founded in Poland in 1996, has won critical acclaim for its albums among fans of death metal.