Mistrial declared in deadly Beecher crash that killed pregnant woman, 3 kids
WILL COUNTY - A mistrial was declared Wednesday afternoon in the case of a 2017 crash in Will County that killed a pregnant woman and her three children.
Just after noon on Wednesday, Judge Daniel Rippy declared a mistrial in the state's case against 25-year-old Sean Woulfe, who was accused of speeding through a Beecher intersection and crashing into 29-year-old Lindsey Schmidt's car. Schmidt was killed along with her sons Caleb, 1; Weston, 4; Owen, 6,; and Schmidt's unborn child.
The jury received the case Monday and deliberated at the Will County courthouse until 7 p.m. before starting again Tuesday as they attempted to determine whether the crash was an accident or recklessness.
DOWNLOAD THE FOX 32 CHICAGO APP FOR BREAKING NEWS ALERTS
After a full day of deliberation Tuesday, the jury gave Rippy a note providing an update, and it said the jury was at 11 guilty and one not guilty.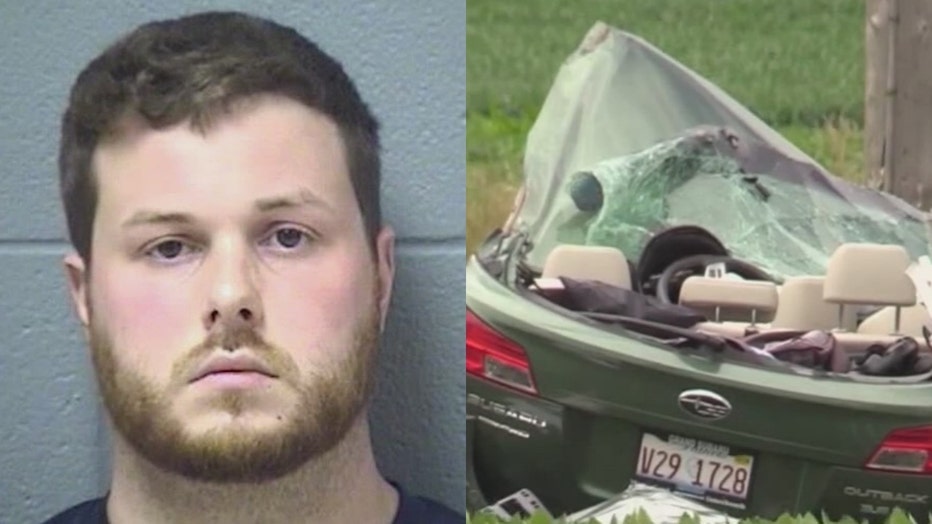 Sean Woulfe | Will County
Rippy gave jurors a few more hours to discuss the case Wednesday morning, but at 12:08 p.m., the court was advised that the jury deadlocked and could not reach a verdict.
"I think what the judge probably determined here was that no matter how much time he gave these jurors, they weren't going to come to a consensus because that one holdout was going to continue to hold out and they tried everything they could to probably change that jurors mind and it wasn't going to happen no matter how much time they deliberated," said legal analyst Karen Conti.
The prosecution and defense agreed to a mistrial and their next court date was scheduled for May 10, where they could set another trial date.
The family was in a 2014 Subaru Outback that collided with Woulfe's 2002 Chevrolet S10 pickup truck at 8:38 a.m. on July 24, in unincorporated Beecher, according to the Will County sheriff's office.
The pickup was eastbound on Corning Road and failed to stop at a stop sign at Yates Avenue; the Subaru was struck on the driver's side and rolled over into a field, police said.
The Subaru had been headed north on Yates, and northbound traffic has no stop sign.
Schmidt, 29, was driving the Subaru; she and Caleb were pronounced dead at the scene, according to the Will County coroner's and sheriff's offices.
Schmidt's other two sons were taken to St. Margaret Hospital in Hammond, Indiana, according to the sheriff's office, then transferred to Comer's Children Hospital.
Weston Schmidt died at Comer July 25, according to the Cook County medical examiner's office. Owen Schmidt died July 27.
Schmidt was also pregnant at the time of her death, according to the sheriff's office.
The state's key witness, who was working in a nearby field, testified that he saw Schmidt pass by and then heard a loud boom.
Woulfe's attorney said his client wasn't reckless, wasn't using his phone or driving drunk and that it was just an accident.
Woulfe faced up to five years in prison on reckless homicide charges for an accident prosecutors called totally avoidable.