More than 1,300 flights canceled as 8 inches of snow expected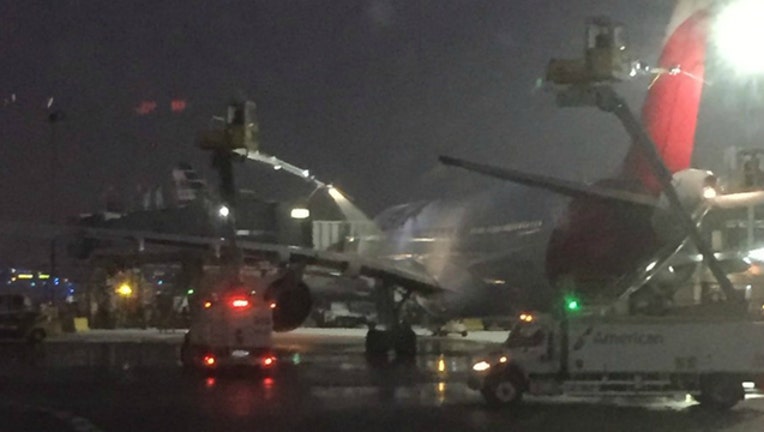 article
CHICAGO (SUN TIMES MEDIA WIRE) - More than 1,300 flights have been canceled as Chicago prepares for up to 8 inches of snow by Sunday night.
Sunday morning, 1,208 flights were canceled at O'Hare International Airport and 164 flights had been canceled at Midway International Airport, according to the Chicago Department of Aviation. Average delays at both airports were running about 15 minutes.
Since Saturday afternoon, about 3.5 inches of snow have blanketed the city, according to the National Weather Service.
The National Weather Service issued a winter storm watch for the weekend, warning that up to 8 inches of snow could blanket parts of Chicago area by Sunday night. The winter storm watch extends across all of northern Illinois, including Cook, Will, Kane, Kendall, DuPage, Lake and McHenry counties; and Lake and Porter counties in northwest Indiana.
About 3.5 inches of snow covered the Chicago area from Saturday afternoon until Sunday morning, according to the weather service.
A mix of snow and rain is expected to continue falling through late Sunday night, according to the weather service. The total snowfall is expected to be about 8 inches and areas north of I-80 could see as much as 12 inches.
Temperatures on Sunday will reach a high of about 35 but drop to 24 later that night, according to the weather service. Monday will be partly sunny and bring a high of 26 which will dip to about 16 at night. Throughout the week temperatures will get dangerously cold with periods of sub-zero wind chills.
Chicago Mayor Rahm Emanuel said residents should take precautions from the snow and cold, urging them to call 3-1-1 if they have insufficient heat or need to visit one of the city's six warming centers. Here's a list of suburban Cook County warming centers.
"We want residents to know city departments are prepared to assist those needing well-being checks, snow removal and other cold-weather services," Emanuel said in a statement on Saturday. "We ask Chicagoans to do their part and shovel sidewalks and help out by checking in on family, friends and neighbors during extremely cold or snowy weather."
The Chicago Department of Streets and Sanitation manages over 9,400 lane miles of roadway and maintains a fleet of over 300 snow vehicles, including 20 new trucks that have been serviced and staged in anticipation of the first snow fall. The city has about 374,000 tons of salt stationed at salt piles throughout the city.
The Illinois Tollway has mobilized 192 snowplows with a staff of 200 per shift for the weekend snowfall, according the Illinois Tollway.
"The department will work as quickly and efficiently as possible to clear the roadways," Commissioner Charles L. Williams said in a statement. "We encourage all motorists to drive according to conditions."