'Get her': Naperville parents charged for allegedly encouraging daughters to beat classmate
NAPERVILLE, Ill. - The parents of two Naperville junior high school students are facing charges after they allegedly encouraged their daughters to beat a classmate.
Steven Teague, 36, and Terika Thomas, 30, both of Naperville, were each charged with one felony count of contributing to the criminal delinquency of a minor, according to the DuPage County state's attorney's office.
The incident happened on April 3, 2023, when the victim was on her way to her bus stop.
According to authorities, the victim was walking to her bus stop around 7 a.m. while being followed by two female juveniles and their stepfather, later identified as Teague.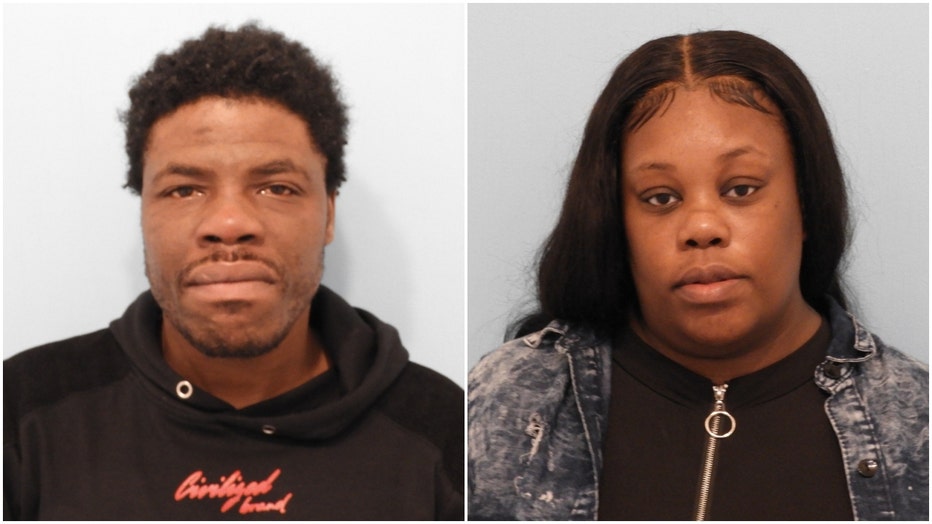 Steven Teague, 36, and Terika Thomas, 30. (DuPage County states attorneys office)
When the victim walked past her bus stop to the next one, the two juveniles, Teague, and Thomas, who were in a vehicle, followed her, prosecutors said.
Once at the bus stop, the juvenile females allegedly attacked the victim, throwing her to the ground and punching her. During the beating, Teague allegedly stood by and watched while Thomas got out of her car and encouraged the juveniles to "get her," according to prosecutors.
"The allegations that Steven Teague and Terika Thomas not only brought their daughters to attack a classmate but also encouraged and watched on as the beating took place are disturbing," DuPage County State's Attorney Robert Berlin said.
Berlin said the victim was not seriously injured in the attack.
SUBSCRIBE TO FOX 32 CHICAGO ON YOUTUBE
"As parents, we have an obligation to teach our children how to appropriately navigate and resolve conflict" Naperville Police Chief Jason Arres added. "Fighting is not the answer, and it's dismaying to me that two adults would set such a poor example for children by encouraging and abetting this behavior."
Teague appeared in bond court last weekend where his bail was set at $40,000. He was released from custody after posting 10%, or $4,000.
Thomas turned herself into authorities and was released from custody after posting the same amount.
Teague is due in court again on May 15, and Thomas is scheduled for arraignment on May 23.