Suburban police on the hunt for jewelry store burglary suspects connected to multiple crimes
NEW LENOX, Ill. - Suburban police are searching for two individuals believed to be linked to a recent jewelry store burglary, with the suspects' car also tied to several other similar incidents.
Marquis Thomas, 23, and Amarrion Ash, 18, are currently sought by law enforcement for their alleged involvement in the March 1st break-in at Cornerstone Jewelry on Lincoln Highway in New Lenox.
Surveillance video shows three men shattering the glass door with a brick before crawling through and ransacking the store, stealing $2000 worth of jewelry.
"When you're a small business, it takes time away from what you should be doing and for nonsense," said Bryan Blaha, the owner of Cornerstone Jewelry. "I think that they've broken into enough places to know what's good."
Investigators now believe the same culprits are connected to two other burglaries: one at a jewelry store in Frankfort on March 6th and another at a Calumet City cellphone store on March 10th. These connections were made possible through the identification of the suspects' vehicle.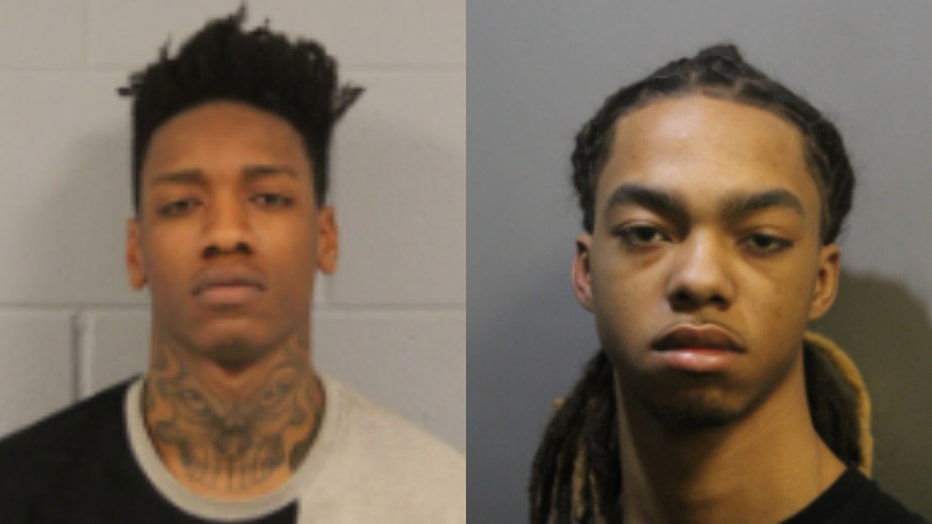 Marquis Thomas and Amarrion Ash | New Lenox Police Department
"I think they saw our video or some of our photos and thought these guys could potentially be them. And there was a tie from all these APBs that these guys may have been associated with that car, so they called to say, 'Hey, this is a little more than circumstantial. You might want to come and look at this.' And one of the two offenders was in possession of jewelry. So it all kind of started to click," Police Chief Louis Alessandrini said.
Now, New Lenox police have obtained arrest warrants against the two for a possible connection into the March 1st burglary.
SUBSCRIBE TO FOX 32 CHICAGO ON YOUTUBE
In addition to these ongoing investigations, authorities are also examining another recent jewelry store break-in, although they have not confirmed its connection to the March 1st crime, due to the way it played out — it was different from the previous incidents.
Surveillance video from the incident shows the suspects enter through a back door of Zembar Jewelers and use tools to break open display cases, getting away with $30,000 worth of merchandise in their own totes.
Police are still actively searching for other individuals involved in the Cornerstone Jewelry burglary.
If you have any information regarding these cases, you're urged to contact New Lenox police at 815-462-6173.