Nordstrom sent a dirty thong along with online order, woman claims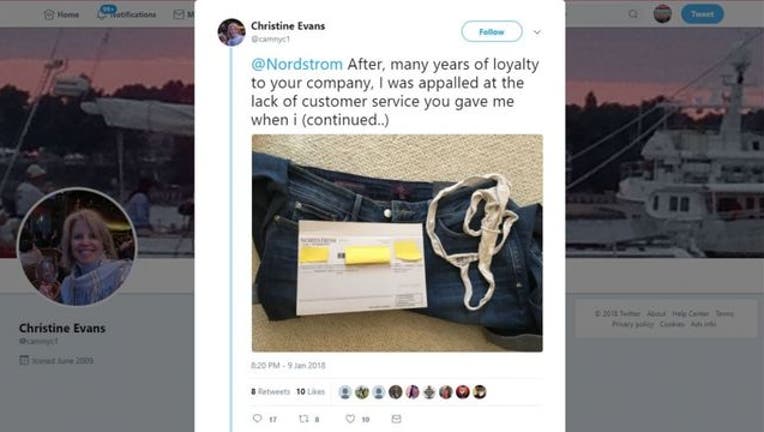 article
(FoxNews.com) - Most people would be happy to find a free, additional garment included with their online order, but probably not like this.
Earlier this week, Christine Evans, a nurse from New York, claims she found a used thong inside the pocket of a pair of jeans she ordered from Nordstrom.
"After many years of loyalty to your company, I was appalled at the lack of customer service you gave me when I received a pair of Not Your Daughters Jeans with a DIRTY and WORN womens THONG in the front pocket," wrote Evans in a series of tweets aimed at the retailer on Tuesday. She also included a photo of what appeared to be a worn pair of underwear.
"I called customer service [and] the response was not adequate with company standards and the customer service you pride yourself on," she added.
Evans further claimed she was offered a replacement pair of jeans, but felt that Nordstrom's offer wasn't acceptable.
"I would imagine that a company such as this one could do more for a loyal, card-holding customer. As a nurse, the numerous amount of health hazards this issue presents is astounding," she wrote in a subsequent tweet, according to The New York Post.
Evans' message apparently got through to Nordstrom, too. On Friday morning, Evans tweeted that she had received a "sincere apology from Mr. Nordstrom himself," and that the matter was "resolved."
Nordstrom has since confirmed to Fox News that the company was "embarrassed" to hear about Evans' ordeal, and has apologized and replaced her jeans. 
Evans' original post also alerted Nordstrom to another underwear-related matter posted by a commenter, who claimed that she once found "dirty underwear" on a rack at the store and reported it to a manager, who allegedly did nothing about it.
Nordstrom's representative further explained to Fox News that the company is "looking at its processes" to make sure an incident like Evans' doesn't happen again.
More on FoxNews.com.