NYC officials abandon subway trash can ban experiment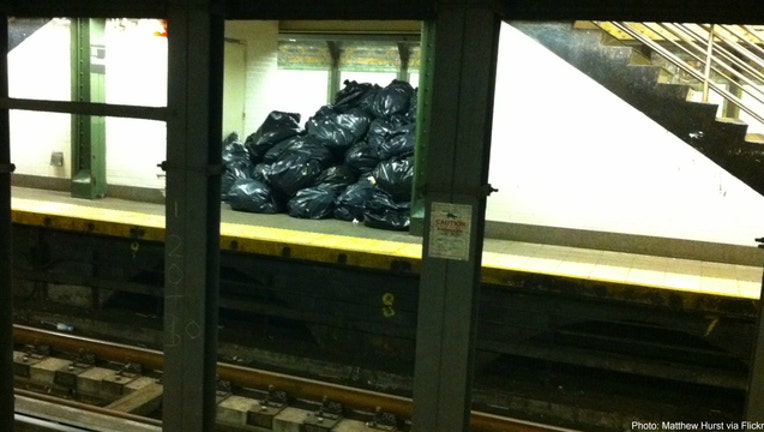 article
NEW YORK (AP) - Faced with too much trash in one of the world's biggest - and arguably dirtiest - subway systems, New York transit officials tried an unusual social experiment. They removed garbage bins from 39 out of the more than 400 stations, figuring that would deter people from bringing trash into the system.
That was a no-go in a go-go city where eating and drinking is often done on the run.
People who toss their soda bottles and potato chip bags onto platforms and tracks kept doing it, causing fires. And hungry rats kept scurrying through stations, drawn by garbage.
The Metropolitan Transportation Authority run by New York state decided to put the bins back.
"It took the MTA five years, but we are gratified that it recognized the need to end this controversial experiment that showed little to no improvements in riders' experience," said New York State Comptroller Thomas DiNapoli, who had released audits saying that fires started by trash thrown on the tracks system-wide didn't decrease as a result of the program.
A transit spokeswoman, Beth DeFalco, said in a statement that the pilot was worth trying, and did lead to some improvements, including fewer track fires without the sometimes overflowing bins. But in the end, it "wasn't the most efficient way to clean the stations."
The MTA said the decision was made in September, and state officials are only now making their final evaluations.
The reason for canceling the experiment may have something to do with the pace of New York City life, its disposable culture and the premium that residents put on convenience.
In New York, pedestrians are rarely more than a few steps from a trash bin. And because they mostly aren't driving, they carry everything they need in their hands or on their shoulders, or simply buy it on the go.
Passengers who rely on the subways to get around dealt with the lack of bins, but many didn't like it.
"Without them, it's a bunch of trash, and more trash, everywhere," said Desiree Bard, an artist, as she boarded a train Thursday at a station on Manhattan's Upper West Side. When she encountered a station without a bin, and needed to throw something out, "I would just hold on to it until I found a trash can, above ground, and I found that kind of difficult; I don't want to have trash in my bag."
Jade Griffin, another Manhattan subway rider, said she had also been willing to temporarily stash trash occasionally in her purse, "but not everyone carries a purse."
"I think you should have trash cans everywhere," she said. "If not, that creates other problems like littering, or putting the trash where it's not supposed to go."
Initially, the MTA had been encouraged by results in the two stations that launched the program in 2011. But when they expanded the number of participating stations to 39 of the total 472 stations, rider evaluations were less rosy. There were also complaints from some businesses and private residences located near station entrances about their trash bins being used by passengers unable to toss their trash somewhere in the subway.
In any case, the MTA has moved on to a more traditional solution for dealing with the 40 tons of daily garbage in the subways: an intense cleanup campaign.
Last summer, the MTA launched its "Operation Track Sweep" program. Workers are cleaning about 90 stations every two weeks, three times as many as previously. Portable track vacuums are being tested and the agency is purchasing more vacuum trains and cars that pick up the contents of 3,500 station receptacles more frequently.
The agency says the cleaning effort has resulted in the number of track fires dropping by 41 percent.