Oak Lawn police search for 4 suspects involved in home invasion
OAK LAWN, Ill. - Oak Lawn police are searching for four people wanted in connection with a home invasion that occurred Tuesday night in the southwest suburb.
The incident occurred around 6:10 a.m., in the 4600 block of West 105th Place. An elderly woman was the victim after she answered a ring at her door, police said. 
The woman was met by another, who was wearing what looks like an orange or red coat. 
DOWNLOAD THE FOX 32 CHICAGO APP
According to police, the unknown offender was posing as if she was selling candy. During this interaction, a male offender wearing what looks to be a white T-shirt, over a blue hoodie and armed with a handgun forced his way into the home knocking the elderly woman to the ground, police said.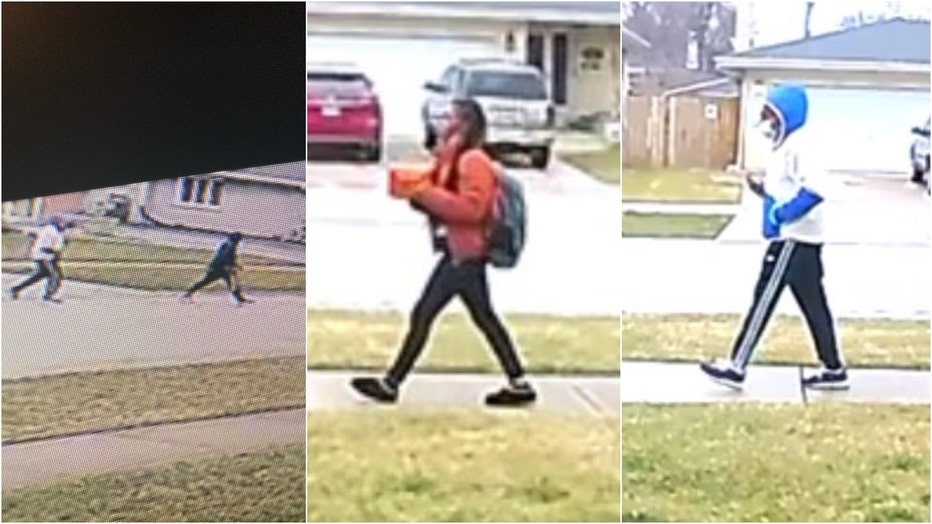 Surveillance images of three suspects wanted in connection with a violent home invasion Tuesday night in the southwest suburb | Oak Lawn police

Police said the victim was held down at gunpoint while a third man entered the home, which was then ransacked by the three offenders.

The trio then fled the victim's home, and met with a fourth unknown offender driving a white Kia Optima.  The car and offenders were last seen traveling west on 105th Place toward Cicero Avenue, police said. 

The elderly woman sustained minor injuries, police said.
Some neighbors on the street week shaken up by the crime.
"An elderly woman ... you know, taken advantage of, that's scary. We're only a few blocks away, so it's pretty scary," said Frank Werner.
Mary Ann Miller, who captured surveillance footage of the suspects, said she is not afraid in the slightest.
"They were not that bright at all," Miller said. "If they could see my cameras, plus on my front door it says the cameras ... these videos ... can be used for prosecution. says it right on my stickers. You have to cover your own butt for everything."
Anyone with information is asked to contact Oak Lawn detectives at (708) 907-4051.