Obama to stick around Washington so Sasha can finish school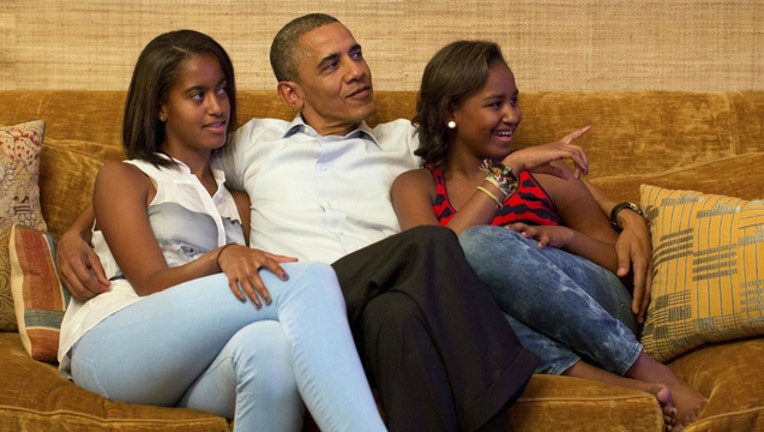 article
WASHINGTON (AP) — Republicans hoping to be rid of President Barack Obama early next year will be disappointed when they hear what he told a lunch companion in Milwaukee.
Obama said he'll stick around the Washington area for a couple of years after he leaves office in January so daughter Sasha can finish high school.
Sasha, 14, is a freshman at Sidwell Friends, an exclusive school in the nation's capital that for years has educated the children of Washington's elites. Her sister, Malia, 17, is a senior at Sidwell. She is expected to be settling in at college when her father's term ends.
One of the women at lunch with Obama dared to ask the burning question: Where will he live after he's done being president?
"We haven't figured that out yet," he said. "We're going to have to stay a couple of years so Sasha can finish" school.
He added: "Transferring someone in the middle of high school. Tough."
Obama's comment wasn't at all surprising. He hinted at that likelihood during a television interview with Barbara Walters in late 2013 when he said Sasha "will have a big say" in where the family ends up. But the president sounded more definitive on Thursday.
The president had lunch with five people who had sent him letters describing how they benefited from the Affordable Care Act, the health care law he signed nearly six years ago. His comments came during a portion of the meeting that was open to the news media and were picked up by microphones.
Obama is also expected to spend time in Chicago after leaving the White House. He and his wife, Michelle, have kept their home in the city. Obama also plans to build his presidential library in Chicago.
Woodrow Wilson, who held the Oval Office from 1913-1921, is the most recent president to live in Washington after leaving office, according to the White House Historical Association. Wilson was ill and died three years later, in 1924.
___
Follow Darlene Superville on Twitter: http://www.twitter.com/dsupervilleap
__
This story corrects that Sasha Obama is a freshman at Sidwell Friends. A previous version said she was a sophomore.