Pair used rental car in stalking, killing of man on Chicago's West Side: prosecutors
CHICAGO - Bail was denied Thursday for a man and a woman charged with a fatal shooting in June 2022 on the West Side.
Glenn Bland, 38, and Adrianna Vanzant, 18, "subleased" a rental car from someone and, four days later, used it to follow the victim to the 5200 block of West Kamerling Avenue where they opened fire, prosecutors said in bond court Thursday.
The man, Laron Powell, 42, was shot in the head and pronounced dead days later, according to Chicago police and the Cook County medical examiner's office. Nine 9mm shell casings and two 40-caliber casings were recovered at the scene, according to prosecutors
The pair's rented Nissan SUV was seen on surveillance camera fleeing the scene and was also captured on tollway cameras as it headed to the suburbs. The pair's cellphone data also tracked with each other and the Nissan, prosecutors said.
SUBSCRIBE TO FOX 32 CHICAGO ON YOUTUBE
Two days later, Bland returned the Nissan to the person who had rented it, prosecutors said. Police recovered the car about eight days later and found three 40-caliber shell casings from the windshield area on the driver's side — fired from the same gun as the casings found on the scene, according to prosecutors.
Vanzant is being held in Cook County jail for alleging killing a person a few weeks later, on June 22, 2022, at a gas station in Oak Park. Vanzant was captured on video shooting at the victim and 9mm shell casings recovered at the scene matched those used in the earlier shooting, prosecutors said.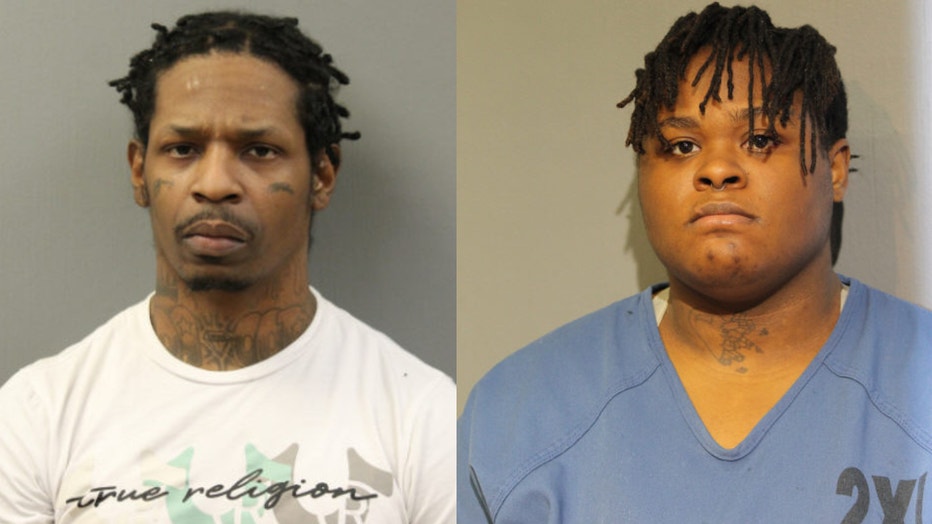 Glenn Bland (left) and Adrianna Vanzant | Chicago police
Bland was out on bail for a May 2022 attempted murder charge. Bland appeared before the same Judge — Charles Beach — when he was arrested for that case in August.
Bland owns a company called Elite Rich entertainment. His criminal background includes charges for armed robbery, rape and battery.
"Those are all indicators to me of a history of violence… I do believe he is a danger to the community," Beach said. "I held him without bail in August and I am going to hold him without bail today."
Vanzant was a minor at the time of the alleged murders and has no other criminal background. She undergoes treatment for bipolar disorder, according to her attorney.
Vanzant was also ordered held without bail.