1 dead, 2 injured after porch collapse on Chicago's West Side; building had prior violations
CHICAGO - A partial building collapse on the West Side has left one person dead and two others injured.
Now, questions remain about the building's safety as past violations are uncovered.  
Chicago firefighters responded Tuesday to a porch collapse at a graystone located in the 3400 block of W. Jackson Blvd. in the East Garfield Park neighborhood.
Three men were pulled from the rubble after part of the building's roof fell on the porch around 4:15 p.m., officials said.
Neighbors said the loud crashing noise made by the falling debris was startling.
"Sitting in the house, just heard it, come out and looked, run across the street, and see the people – two people trapped," said Greg Augustus, who lives nearby.
Anthony Wright, 53, was pulled from under "heavy stone debris" and pronounced dead, officials said.
Fire officials said some of the stone slabs were so heavy, at one point they thought about using a crane to lift them.
"Anytime there's life lost, it's tragic. It don't seem that way to us until it hits home and it's you," said Augustus. "It's tragic, it's real, real hard."
Another man, 68, was taken to Mount Sinai Hospital with "crush injuries" and was listed in critical condition, officials said.
A third man, 32, was taken to Stroger Hospital with a broken left leg and injured back, officials said. His condition was stabilized by Tuesday evening.
"I'm just praying for the families of the people," said Shevonnie Williams, who lives nearby.
Junwon Griffin said his relatives live in the building, and rushed to the scene once he heard the news.
"I was shaken, I didn't know what to do with myself. I was just… kept on praying, kept my strengths, hoping everything is alright," said Griffin.
A firefighter suffered a minor injury while responding to the scene.
DOWNLOAD THE FOX 32 CHICAGO APP FOR BREAKING NEWS ALERTS
The building is estimated to be about 100 years old.
An online records search with Chicago's Department of Buildings reveals that the structure failed an inspection in 2006 with one code violation. It passed a building inspection the following year in 2007.
Then most recently, in 2015, it failed another inspection – this time with 8 violations, including that it "failed to maintain the exterior walls of a structure."
Building inspectors from the city were on-scene Tuesday evening to investigate.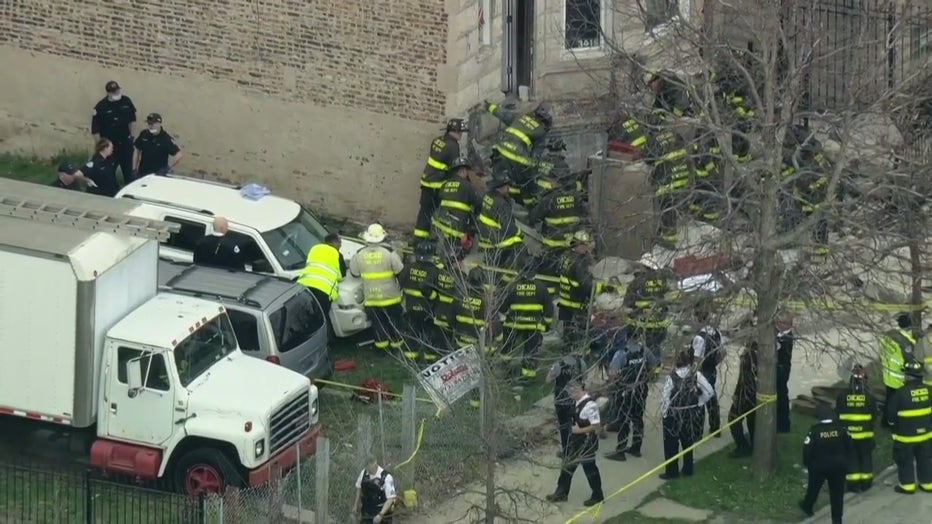 Sun-Times Media Wire contributed to this report.