Suspect shot, killed during standoff with Chicago police in West Garfield Park
CHICAGO - Authorities say the man who was shot and killed during a standoff with police Friday morning in West Garfield Park was wanted on two warrants.
Klevontaye White, 34, was wanted for aggravated sexual assault with a firearm, and the other was for cutting off his electronic monitoring bracelet, according to Chicago police.
At about 9:40 a.m., members of the U.S. Marshals and Cook County Sheriff's Police were conducting an investigation and located White inside a vehicle in the 100 block of South Kilpatrick, authorities said. 
Police say members of the fugitive task force were called in for help and Chicago police responded after White refused to exit the vehicle.
Chicago Police Supt. David Brown said three Chicago police officers and one US Marshal opened fire.
"He pointed a gun at our officers, with ill intent," said Supt. Brown
White was shot and taken to the hospital where he died. 
DOWNLOAD THE FOX 32 NEWS APP FOR BREAKING ALERTS
Police say White's gun was recovered at the scene, but whether he fired shots is still being investigated. 
Here's what was said on police scanners:
"Alright everybody, take cover. Alright we got shots fired. Alright shots fired at CPD."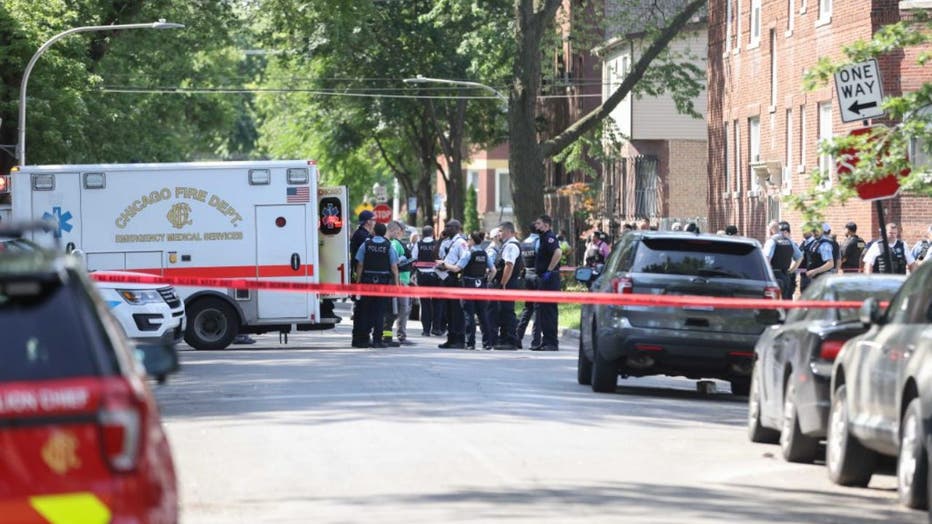 Police officers at the scene where a person was shot during a standoff with police Friday morning in the 100 block of South Kilpatrick Avenue. (Anthony Vazquez)
"We are doing our part to make Chicago safer, but we need the court system to do it's part. This person was on electronic monitoring after 15 counts of criminal sexual assault with a firearm," said Supt. Brown.
The Cook County Sheriff's Office released the following statement in regards to the suspect:
"On January 8, 2020, Klevontaye White, 34, was booked into the Jail after being ordered held without bail on charges including aggravated criminal sexual assault with a weapon, armed robbery, and aggravated criminal sexual abuse. On July 9, 2020, he had a bond reduction hearing at which bond was set at $100,000 D with court ordered electronic monitoring if he could pay his bond. White was placed on electronic monitoring on August 16, 2020, after posting the required 10 percent of his bond.
Law enforcement agencies, including the Sheriff's Office, had been searching for White since he went AWOL from his court-ordered electronic monitoring on Dec. 2, 2020. On July 9, 2021, he was the subject of an outstanding violation of bail bond warrant in the 2020 case, as well as an escape warrant related to his fleeing the electronic monitoring program.
White had previous convictions for vehicular hijacking, aggravated battery with a firearm, aggravated DUI, possession of a controlled substance, and harassment by telephone.